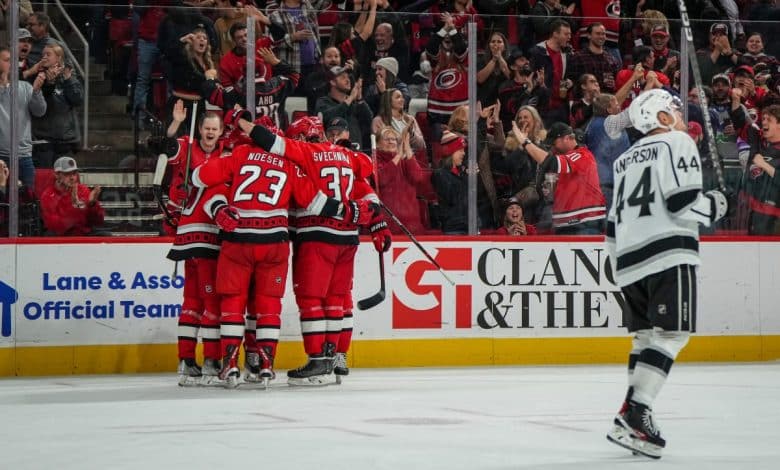 Sebastian Aho capped the Carolina Hurricanes' comeback by scoring in overtime in a 5-4 win over the Los Angeles Kings on Tuesday.
The Canes came from a three-goal deficit to extend their winning streak to six.
Aho, meanwhile, saved his goal by hitting the target in the fifth game in a row, for a total of eight goals during this period. He thus became the third player in the history of the organization to have at least three streaks of five games or more with a goal.
Drew Doughty still made history for the Kings in the loss. With two assists tonight, he became the first Kings defenseman to score 600 career points. Second overall pick in 2008, he played 1,066 career games with the team that drafted him.
Both goalkeepers came out early in the game, but Brent Burns was the first to break through Pheonix Copley's wall. Andrei Svechnikov served a brilliant pass to Burns, who fired a laser into the top corner. The defender thus obtained a ninth goal this season.
The Kings then scored four unanswered times in the second period. Adrian Kempe started that push with his first of two goals tonight. Other successes came from Kevin Fiala and Anze Kopitar.
The Canes did not give up, while Paul Stastny set the tone for his team's comeback in the third period. Jordan Staal closed the gap, then Teuvo Teravainen tied the game on the power play before Aho put the finishing touches.
Frederik Andersen scored his 11th win this season with 17 saves.