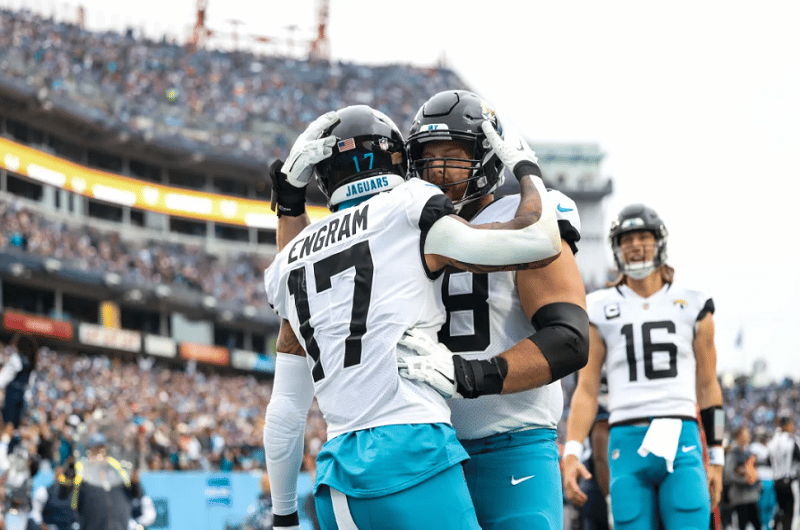 Trevor Lawrence and his attack took advantage of all the ammunition offered
Tennessee Titans (7-6) – Jacksonville Jaguars (5-8): 22-36
Surprise in Tennessee! While the Titans were announced as favorites for this division match, the Tennessee team was largely dominated by Jacksonville.
Blame it on an attack that was far too clumsy (4 bullet losses) and a defense that ended up cracking as it saw its attack giving the opponent ammunition.
With this complete performance, Jacksonville ends almost a decade of defeats in Tennessee and can still believe (mathematically) in the division title.
Tennessee shoots itself in the foot
Funny first half for the Titans. If Tennessee ideally enters its match with a touchdown (7-0) from Derrick Henry (17 carries, 121 yards, 1TD) and another from Chigoziem Okonkwo (6rec, 45 yards, 1TD) (14-7), behind the Titans multiply errors in attack.
Indeed, the premises lose three balls in attack on the following series. Ryan Tannehill (25/38, 254 yards, 2TD, 1INT) is the main culprit with a fumble under pressure from Trevon Walker and a nasty interception thrown. The last is due to Henry losing control of the ball mid-run.
Each time, Jacksonville takes advantage of these opportunities offered to score points. Following the first fumble in the Titans' camp, Trevor Lawrence (30/42, 368 yards, 3TD) found Evan Engram (11rec, 162 yards, 2TD) in the endzone (7-7). After the interception, the Jaguars do not fully capitalize on it but still manage to add a field goal (14-10).
Finally, after Henry's error, it was Zay Jones who ended up giving the advantage to his team (14-20), at the buzzer, on a superb reception from 20 yards. A reception that is played to the nearest millimeter to be validated. At 10 seconds from halftime, the Jags took the lead on the scoreboard for the first time.
WOW, ZAY JONES 🔥🏈#JAXvsTEN #DUUUVAL

🎥 @Jaguars pic.twitter.com/yAfQexfXnl

— DNA of Sports.com – NFL News 🏈 (@DNA of Sports) December 11, 2022
The locals can blame themselves for this first half. Almost all of Jacksonville's points came from lost balls by the Titans…
Jacksonville passes the second
On resumption, the Jaguars achieve a superb offensive series by keeping the leather for 7 minutes and playing 12 actions. At the conclusion, it is Lawrence himself who escapes on his right to register the touchdown. The visitors take off leading 27 to 14.
Jacksonville drives the nail in stride. Lawrence and Engram multiply the beautiful actions like these two pass-receptions from 21 yards, the second of which will be a touchdown (14-33). A new loss of ball from the Titans allows Jacksonville to add a field goal to get out of reach (14-36).
Tennessee will save the honor with a final touchdown by Westbrook-Hine (22-36). But it is too late to prevent the Titans from chaining a third defeat.