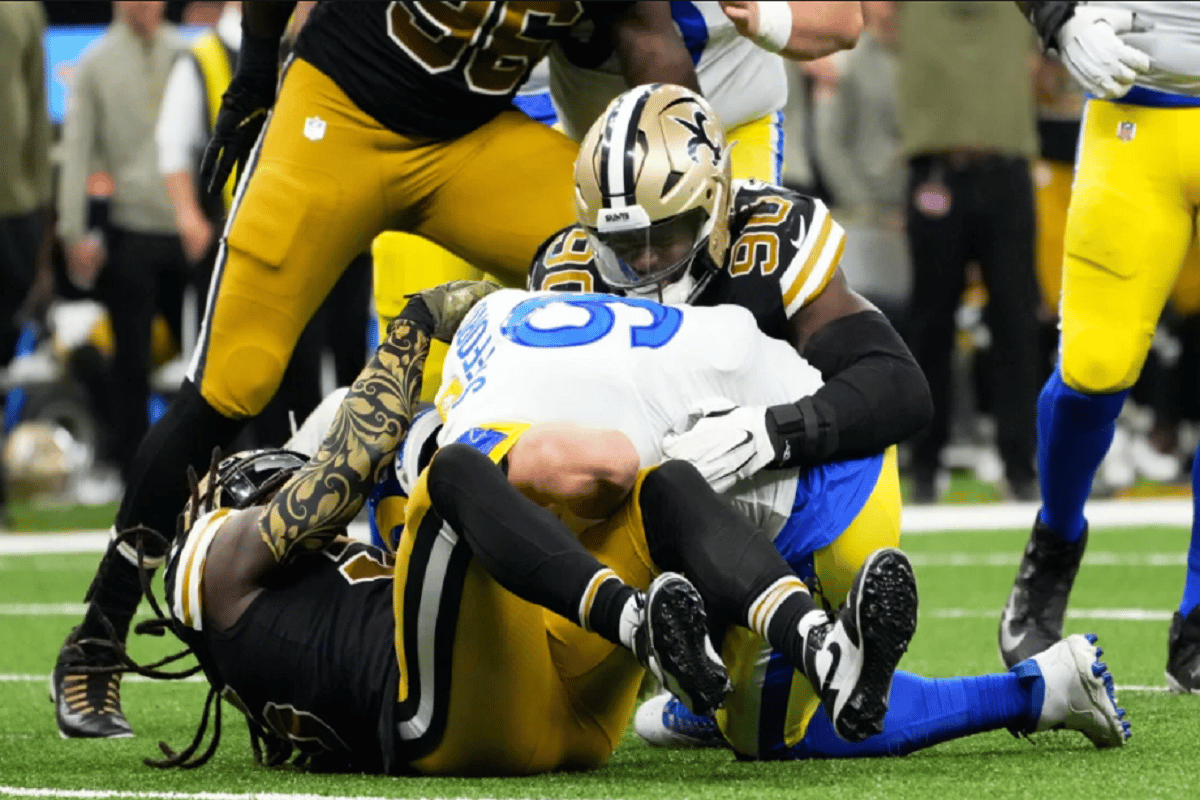 Stafford still injured, the Rams still losing, nothing is going well for the champions
New Orleans Saints (4-7) – Los Angeles Rams (4-6): 27-20
Nothing will be spared the Rams this season. Already in difficulty for several weeks due to injuries, Los Angeles has again lost Stafford (concussion protocol) and its 3rd left tackle of the year…
Inevitably Los Angeles ended up suffering and bowing against the Rams. With 3 wins in 10 games, the defending champions can say goodbye to dreams of a double. For their part, the Saints were able to take advantage of these injuries and make the difference in the second half (17-3) in the second act) to win easily.
LA almost believed it
Yet the first half is not so bad for Los Angeles. The Rams have gained more yards (nearly double the Saints) and are ahead of the score (14-10) returning to the locker room.
This advance, the Rams owe it first to a flash of lightning. Not very successful in his first series, Matthew Stafford (11/18, 159 yards, 2TD) launched deep for Tutu Atwell who managed the reception and transformed it into a touchdown (3-7) from 62 yards! A winning single-action drive.
Matthew Stafford ➡️ Tutu Atwell ➡️ 6️⃣2️⃣ yards ➡️ TD Rams 🏈#LARvsNO #RamsHouse

🎥 @NFLpic.twitter.com/4dfuqnwm6t

— DNA of Sports.com – NFL News 🏈 (@DNA of Sports) November 20, 2022
Then Los Angeles will take control on its last offensive series before halftime. The Rams back 87 yards with a fair and efficient Stafford as rarely this season. The quarterback managed 10 of his 11 passes and concluded by finding Allen Robinson (4rec, 47 yards, 1TD) in the endzone (10-14) just before halftime.
The Saints had led them twice in the meantime. First on a field goal (3-0), then on a reception-touchdown (10-7) of 8 yards from Juwan Johnson (3rec, 47 yards, 1TD). The tight end has established itself as the number 1 offensive weapon of his team in the red zone in recent weeks, with his 5th touchdown in as many games.
New Orleans without mercy
In the second half, the Saints will not give their opponents a chance. "Unleashed" in attack, the locals scored two touchdowns in quick succession. On the first, the Saints insist with Alvin Kamara and end up finding the opposing in-goal on a pass from Andy Dalton 521/25, 260 yards, 3TD) for the returning Jarvis Landry. The locals then lead 17
at 14.
Then, the quarterback speaks with his arm and his power by throwing deep for 40 yards for Chris Olave (5rec, 102 yards, 1TD). The rookie receives the leather and covers the missing yards for the touchdown (24-14).
Without Stafford, and with their 3rd QB in the field, the Rams can't really keep up and only score two field goals in their subsequent series. Too little to scare the Saints who will have added a field goal in the meantime…
The defending champions therefore lost 27 to 20 in a match that perfectly illustrated their setbacks of the season. For the Saints, the victory is there but the content is still imperfect…