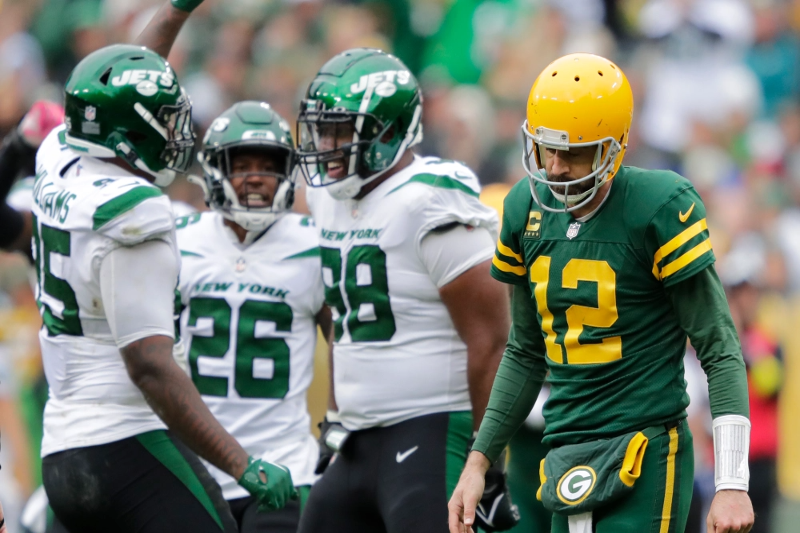 Like last year, and like Tom Brady, Aaron Rodgers will still be at the heart of all the offseason news. At least until he makes a decision.
Iconic NBC Sports reporter Peter King kicked off the festivities in an article where he explains the Packers would want at least two first-round picks in a trade for Aaron Rodgers. Above all, King reports that Woody Johnson, the owner of the Jets, would be ready to pay this price!
On the side of ESPN, Adam Schefter specifies that the leaders of the Packers would not want to send Rodgers to another team in the NFC conference, and that they are only ready to study the idea of ​​​​a departure from the player to the AFC .
Rodgers still doesn't know
Jets? Departure ? Before all that, we will first have to know what Rodgers wants. And a few hours after the announcement of these rumors, the player took the floor in the Pat McAfee Show to remind that everything revolves around him. Retirement, Green Bay or elsewhere, nothing is done.
"Trading and all that is just guesswork until I decide what I want to do," Rodgers recalled.
A few days ago, Rodgers had opened the door to a departure. On Tuesday, he admitted that his contract could be in trouble, whether in Green Bay or elsewhere. It must be said that 59.4 million dollars are guaranteed to him in 2023.
"We will have to make adjustments, that's for sure," he conceded.
A legendary quarterback, Super Bowl winner, multiple MVP, who leaves for New York after exhausting everyone in Green Bay? Rodgers would in any case continue to follow in the footsteps of Brett Favre, of whom he ended up becoming a kind of twin over time.