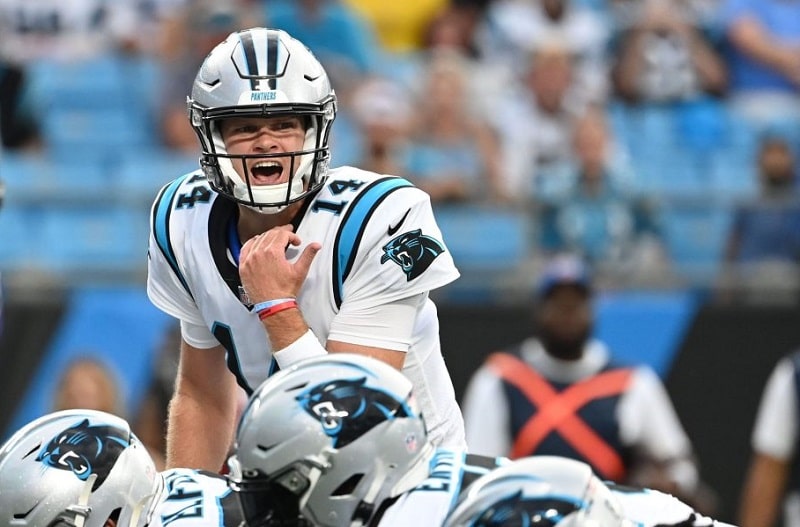 Then maybe ? In a season in which they fielded Baker Mayfield, PJ Walker and Sam Darnold at quarterback, the Panthers are still racing in an odd NFC South division.
One game behind the Buccaneers, Carolina has a chance to pick up the slack this week with a win over the Steelers. Especially since, during this time, Tampa may suffer to keep pace with the Bengals.
Many uncertain meetings for this week which will include meetings on Saturday, but also potential surprises. The Chargers are unanimously chosen against the Titans, but watch out for Tennessee's awakening! The opposition of the NFC East between Giants and Commanders sees Washington arriving as a favorite, but again, be careful, especially in this division duel.
In the standings, Victor Roullier (127) and Grégory Richard (127) are now in the lead ahead of Alain Mattei (126). Raoul Villeroy (122) overtakes Raphaël Masmejean (121), while Lucas Vola continues to bring up the rear (119).
To predict, you can join the DNA of Sports league on Pronos with friends.
Podcast team predictions
| | | | | | | | |
| --- | --- | --- | --- | --- | --- | --- | --- |
| Residence | Outside | Alain | Raoul | Gregory | Raphael | Lucas | Victor |
| Seahawks | 49ers | 49ers | 49ers | Seahawks | 49ers | 49ers | 49ers |
| vikings | Colts | vikings | vikings | vikings | vikings | vikings | vikings |
| browns | Ravens | browns | Ravens | browns | Ravens | browns | Ravens |
| bills | Dolphins | bills | bills | bills | bills | bills | bills |
| Bears | Eagles | Eagles | Eagles | Eagles | Eagles | Eagles | Eagles |
| Saints | Falcons | Saints | Saints | Saints | Saints | Falcons | Falcons |
| Jets | lions | lions | lions | Jets | lions | lions | lions |
| Panthers | Steelers | Panthers | Steelers | Steelers | Panthers | Panthers | Panthers |
| Jaguars | Cowboys | Cowboys | Cowboys | Cowboys | Cowboys | Cowboys | Cowboys |
| Texas | Chiefs | Chiefs | Chiefs | Chiefs | Chiefs | Chiefs | Chiefs |
| Broncos | Cardinals | Cardinals | Cardinals | Cardinals | Broncos | Cardinals | Cardinals |
| Raiders | Patriots | Raiders | Patriots | Patriots | Patriots | Raiders | Patriots |
| Chargers | Titans | Chargers | Chargers | Chargers | Chargers | Chargers | Chargers |
| Buccaneers | bengals | bengals | bengals | Buccaneers | bengals | bengals | bengals |
| Commanders | Giants | Commanders | Commanders | Commanders | Commanders | Commanders | Commanders |
| Packers | rams | Packers | Packers | Packers | Packers | Packers | Packers |