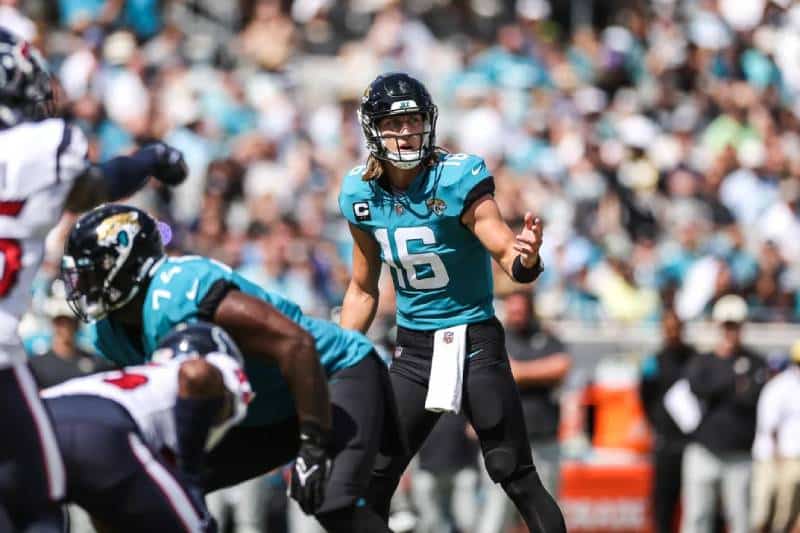 Jacksonville Jaguars (2-3) – Houston Texans (1-3-1): 6-13
After two consecutive victories against the Colts and Chargers, the Jaguars had to make short work of the Texans. Missed. In large widths. Unable to score any touchdown, Trevor Lawrence (25/47, 286 yards, 2 int) and his teammates again looked like a bottom line team.
Dameon Pierce (26 carries, 99 yards, 1 TD) completed them with a touchdown 3 minutes 11 from the end to allow Houston to lead 13 to 6. The runner did most of the work for Texans yet far from exciting . They win with only 248 yards on offense!
Jacksonville finished the game with 422 yards on the clock, but 2 loose balls, 0/3 in the red zone and 0/3 on the fourth attempt.
Wasted opportunities, wasted opportunities…
Are the Jaguars up to the competition? In any case, they tied with Houston in mediocrity from the start of the game. Punts in all directions, precisely five in a row to start the game. The tone is set.
After the punts, place to inefficiency. Two field goals each, we stall in the last yards, and it gives 6-6 at the break.
Back from the locker room, Lawrence and Doug Pederson find new ways to fail. The quarterback is intercepted while his team is on the 7 opposing yards. While Jacksonville fails on fourth attempt, then send a new punt, Houston is barely better. Davis Mills (16/24, 140 yards) and receivers don't do much. But with wear, Dameon Pierce advances. And he scores the decisive touchdown for the 13-6.
The Jaguars have the ball well for two more possessions, which end with one more miss on fourth and one more small interception for the road.
Are the Texans really stronger? Not really. The Jaguars were mostly disappointing.