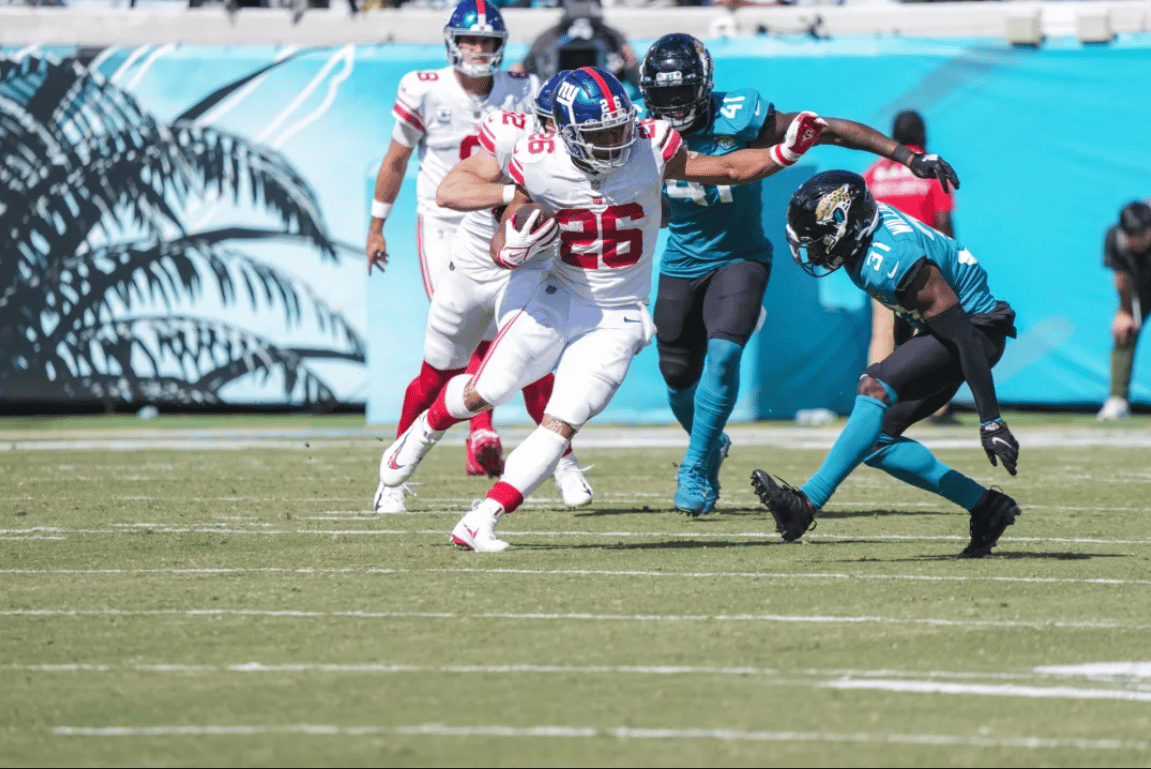 Jacksonville Jaguars (2-5) – New York Giants (6-1): 17-23
Surprise at the start of the season, the Giants met the Jaguars in decline this Sunday, after a hopeful start to the season. In a game more balanced than expected, the Giants AGAIN made the move to win after being behind for much of the game. The Jaguars may be able to blame themselves for not running the clock enough.
Cheers, Etienne
At the start of the match, the Jaguars are attractive in attack and defense. Already teammate of Trevor Lawrence (22/43, 310 yards) at Clemson, Travis Etienne (14 races, 114 yards, 1 TD) is in good shape. The Floridian attack is diversified: creative races, jet sweeps, varied layouts for the receivers. Everything tends to show good preparation for the match on the side of Doug Pederson's players. The twirling running back even offers a nice breakthrough in the New York lines.
.@swaggy_t1 with the wheeeeels!#NYGvsJAX on FOX pic.twitter.com/MZvbX690Do

—Jacksonville Jaguars (@Jaguars) October 23, 2022
The turning point: fumble in the end zone!
The Jaguars rather control the course of the match in the first half, and apart from the touchdown suffered on the first drive, the attacks of the Giants are contained. Near halftime, the Jags have the opportunity to drive the nail on the head of the Giants. Travis Etienne is only a few yards from the end zone when Xavier McKinney causes the fumble, covered by Julian Love.
❌ DENIED ❌

📺: FOX pic.twitter.com/LwxDAgR4Ac

—New York Giants (@Giants) October 23, 2022
The Giants go up the field to score a field goal, and instead of a lead, the Floridians return to the locker room late. The Giants mojo has struck again.
The Jaguars come back in front in the second half, but everyone sees the inevitable coming. Under the battering of Saquon Barkley (24 races, 110 yards) and a clean Daniel Jones in the air and above all lethal on the ground (19/30, 202 yards, 1 TD, 11 races, 107 yards, 1 TD) , the Jags eventually crack. At the end of the match, Jacksonville finished 1 yard from victory, but it's almost anecdotal as the fate of this match seemed sealed for a long time.
New York has again initiated a comeback, their trademark since the start of the season. Mid-season has not passed but given its workforce (the best receiver is once again Darius Slayton with 58 yards and 1 TD!), Brian Daboll already has a hand on the coach of the year trophy.