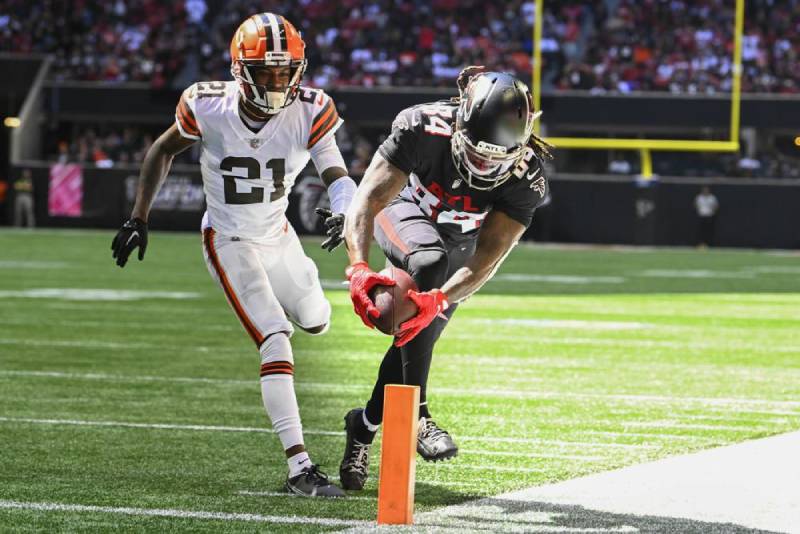 Atlanta Falcons (1-2) – Cleveland Browns (2-1): 23-20
All that is asked of Jacoby Brissett (21/35, 234 yards, 1 int) is not to lose his team. Failed this time. While trying to lead his team to an equalizer or victory in the last two minutes, the Browns quarterback shot himself in the foot. The Browns were almost in field goal position when he took a sack, before throwing an interception on the next action.
Anyway, you had to look elsewhere to see flamboyant quarterbacks this Sunday. But unlike his opponent, Marcus Mariota (7/19, 137 yards, 1 int) was able to achieve the key action at the right time. Three minutes from time, Mariota found Olamide Zaccheaus for 42 yards. Enough to put his team in a position to score the winning field goal.
The ground, the ground, the ground
If the pitchers did not shine, the runners had the best part. On the side of Atlanta, Tyler Allgeier (10 races, 84 yards, Caleb Huntley (10 races, 56 yards, 1 TD) and Cordarrelle Patterson (9 races, 38 yards, 1 TD) divided the work almost equally. In total, the Falcons have traveled 202 yards on the ground, enough to allow them to lead 10-0 at the break.
Because despite the onslaught of Nick Chubb (19 races, 118 yards, 1 TD) and Kareem Hunt (10 races, 49 yards), the local defense holds the start of the game. Finally, Jacoby Brissett on the ground and a field goal allow Cleveland to equalize at the break (10-10).
Cade York's foot put the Browns ahead (10-13) in the third, but Huntley gave Atlanta the lead (17-13) at the start of the final period. Chubb responds (17-20), but the Falcons score twice on foot to win when Brissett can't make the difference on his last two possessions.
Despite limited aerial play, Arthur Smith continues to do an impressive job with the Atlanta offense. But the honors also go to the defense this Sunday. Despite conceding 403 yards, she held in key moments and stole two balls. Cleveland was limited to one touchdown in three red zone runs. The Browns did not help themselves by being penalized seven times.