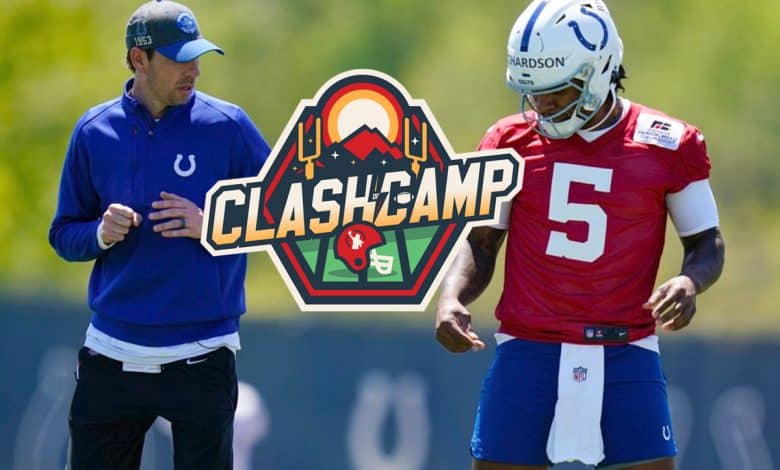 Of 90 to 53. For a permanent or rotational position, there are many candidates, for few elected. Because competition means emulation, apart from a few executives, NFL staff all experience battles during training camps.
Indianapolis Colts: Quarterback
On the starting line: Anthony Richardson, Gardner Minshew, Sam Ehlinger
After the failures of confirmed players (Phillip Rivers, Carson Wentz and Matt Ryan), the Colts change their strategy for the most important position on the ground: chosen in the top 5 of the 2023 draft, Anthony Richardson must become the future of franchise. But what about this 2023 season?
The athletic qualities of this quarterback are extraordinary! Think LeBron James in basketball or Kylian Mbappé in football. The power of his arm allows him to punish the opponent in depth and his mobility allows him to gain a lot of yards by carrying the ball. Still perfectible technically, he finds himself in the best possible place with a coach, Shane Steichen, a former quarterback himself, who has been able to advance a profile with some similarities: Jalen Hurts in Philadelphia.
If this young player (21 in May 2023) fails to be more consistent in his performance, the Colts could start the 2023 season with Gardner Minshew II. This player with an atypical personality offers the advantage of knowing the coach's calls for play, after two joint seasons in Philadelphia. If he's not the type to lift everyone up, he might not make the team lose by being what we call a game manager.
Four-time starter in 2022, Sam Ehlinger showed all the limits he already had when he left the University of Texas in 2021. In his defense, an average offensive line as well as being under the orders of an interim coach (Jeff Saturday) didn't help him in 2022.
By popularizing the subject, Gardner Minshew could "do the job" while waiting for Richardson to be ready. However, the owner said the best way to progress is to play. The opponents will have to know how to defend the race and above all quickly see who is carrying the ball: the formidable runner Jonathan Taylor or Anthony Richardson?
Prediction: Anthony Richardson from week 1
Also: receiver (slot), right guard, defensive end, safety
Jacksonville Jaguars: 5th defensive back
On the starting line: Tre Herndon, Andrew Wingard, Antonio Johnson, Chris Braswell, Erik Hallett
In 2022, of the five most used defenders, four were backs: cornerbacks Darious Williams and Tyson Campbell as well as safety Rayshawn Jenkins and Andre Cisco who will start again in 2023. But in the modern NFL, the 5th defensive back is as important as a 6th man in the NBA: both in his role and in playing time.
The most used defender in 2021, safety Andrew Wingard was mainly used on the special team in 2022. The Jaguars gave him a new three-year lease and his role should be the same in 2023: 18% of defensive snaps and 64% of special team snaps.
Cornerback specializing in the slot (nickel cornerback), Tre Herndon did not shine in 2022, neither in coverage nor in help against the run. Yet the staff gave him a one-year contract extension: because he knows the system and the alternatives are young.
Expected higher in the 2023 draft, Antonio Johnson slipped to the 5th round (choice 160). He lost a lot of points in the NFL Combine! But his versatility makes him a 5th man who can be used in different ways: 128 plays as Strong Safety, 110 as Free Safety and Nickel Cornerback for 280 snaps in 2022.
His skill against the run is interesting because Derrick Henry (Titans), Jonathan Taylor (Colts) as well as Dameon Pierce and Devin Singletary (Texans) are in the division. On the cover, he risks being exposed by the liveliness of slot-receiver of NFL, but it could be a solution in the face of opposing tight ends.
In 2023, the Jaguars also used a 6th-round pick to sign a seemingly perfect player for the starting job.ickel : Chris Braswell (1m78 for 80 kilos) was able to compensate for his lack of height with a game intelligence allowing him to defend 11 passes including 3 interceptions in 2022. Six choices later, the Jaguars selected Erik Hallett who also has the profile to hold this position: 1m80 for 80 kilos, 3 interceptions in 2021 and 3 more in 2022 (and 122 cumulative tackles over these two seasons).
28th defense in yards conceded in the air, the Jaguars must improve the pressure put on the first curtain but also their coverage: having a good 5th defensive back remains essential in the NFL.
Prediction: Tre Herndon then Antonio Johnson from week 3
Also: left and right tackles, left guard, linebackers
Tennessee Titans: Right tackle
On the starting line: Peter Skoronski, Dillon Radunz, Jamarco Jones, Jaelyn Duncan
With the departures of Taylor Lewan, Ben Jones, Dennis Daley and Nate Davis, the Titans need to rebuild their offensive line. Andre Dillard comes to occupy the position of left tackle, he who has not yet justified his immense rating out of university. The suspension of Nicholas Petit-Frere (6 games) makes the position on the right vacant.
In 2023, the franchise used the 11th draft pick on an offensive lineman. Peter Skoronski had a very high-flying university career: 33 starts as left tackle and only 5 sacks conceded! Very good for the ground game, his technical level makes him the favorite to get the job. His arms are only 3 centimeters shorter compared to the one who will play on the left! The difference seems quite small.
Another candidate, Dillon Radunz. If he has struggled to impose himself since his selection in the 2nd round in 2021 (51st), he is able to play outside or inside and has the advantage of knowing the offensive system. He could take an OG position, that of RT or be the swing tackle (the 6th OL on certain games and the one who replaces if injury). Jamarco Jones can also play guard or tackle and his return from injury adds competition to several positions.
The big odds are rookie Jaelyn Duncan. If he has always played on the left with the University of Maryland, he will fight for a position on the right. Choice of the 6th round (186), it nevertheless seems to be nothing more than a development project.
Prediction: Peter Skoronski
Also: quarterback, nose tackle, kick returner
Houston Texans: Linebackers
On the starting line: Christian Harris, Christian Kirksey, Denzel Perryman, Henry To'o Too, Cory Littleton, Garrett Wallow, Jake Hansen
DeMeco Ryans is the new Texans coach. Before becoming the defensive coordinator of the San Francisco 49ers, he was known for his NFL career as a…linebacker. For two years, he has been able to rely on the formidable Fred Warner and he has used formations with two linebackers most of the time: Houston has seven candidates for two places!
Christian Kirksey has started all 17 games in 2022 and his 127 tackles and 2 interceptions seem to make him a sure starter. But if other candidates were to perform well then his contract could cause him to lose his job: 6.25 million dollars in the salary-cap, only 1 million lost if there was a cut. It is probably not trivial, as Bruno Cheyrou would say, that the new staff signed Denzel Perryman: same position but for three times less!
After two superb seasons with the Los Angeles Rams, Cory Littleton has not been able to win: neither the Raiders nor the Panthers. These two beautiful seasons date back to 2018 and 2019! A relatively weak contract as well as the hope of finding a player who has already been dominant in the NFL, undoubtedly guarantees him a place in the workforce. But in game time, he will be strongly challenged by a rookie.
Player compensating for his lack of size with a lot of speed, Henry To'o To'o is a type of intelligent linebacker and capable of transmitting instructions before the ball is engaged. Garrett Wallow can provide some rotation but was (and will be) mostly used to tackle on special teams. Same use for Jake Hansen.
In the end, only Christian Harris seems guaranteed to occupy one of the two positions.
"Few linebackers are as quick and explosive as Christian Harris! He has everything to become one of the best in the NFL", DeMeco Ryans on Christian Harris, for USA Today
DeMeco Ryans seems to want to play the sound card alma mater : Christian Harris, Henry To'o To'o and Will Anderson (3rd draft pick 2023) are all from Alabama.
The three played together in 2021: 17.5 sacks for Will Anderson, 111 tackles for To'o To'o and 80 tackles including 11.5 for losses for Christian Harris. That year, these players reached the university final (loss to Georgia). Houston would sign right away for a lost game in the Super Bowl!
Prediction: Harris – To'o To'o
Also: Defensive Tackle, Receiver, Center, Quarterback