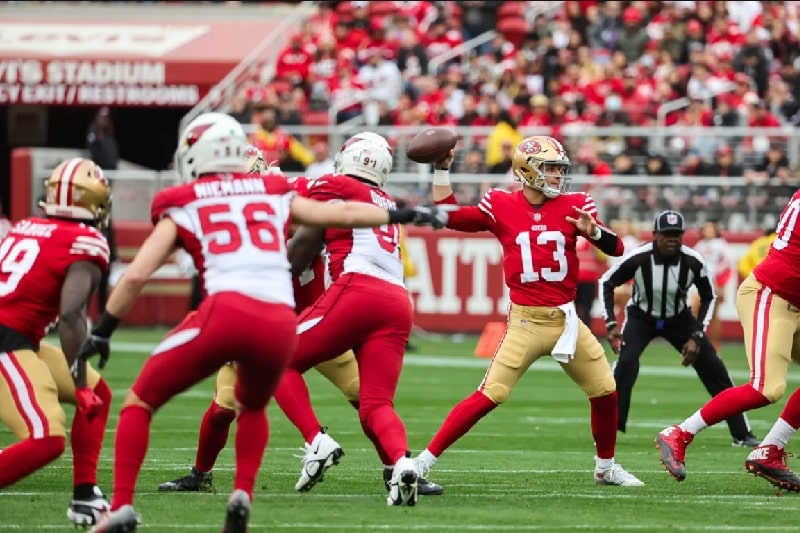 San Francisco 49ers (13-4) – Arizona Cardinals (4-13): 38-13
Last of the (regular) season at Levi's Stadium in Santa Clara this Sunday. With a slim chance of taking the top spot in the NFC (that would require an Eagles loss to the Giants' backups), the 49ers come in full against a drifting Cardinals led by David Blough.
Evening of the last for Arizona
Last happy: that of JJ Watt, true to himself. The three-time defender of the year therefore ends his career with 114.5 sacks, tattooing his number twice on Brock Purdy's jersey tonight.
Last less joyful: it is most likely over the Kliff Kingsbury regime in Glendale. With a record of 29 wins, 36 losses and 1 draw, the flamboyant attack dreamed of by the Arizonans will have reached the playoffs only once in 4 years (last year, with a defeat in the Wild Cards).
For this final meeting, David Blough's teammates (14/18, 180 yards, 1 TD, 2 INT) deluded for a little over a quarter, before no longer being able to keep up. The best receiver (AJ Green) finished with 91 yards and 1 TD, including 77 yards on the first pass of the game.
San Francisco breaks in before the playoffs
California side, regular fare. The defense quickly locks the attack (3 sacks, 6 turnovers, including 2 interceptions for safety Tashaun Gipson), and the attack takes place under the orders of a Brock Purdy in line with his previous meetings: 15/20, 178 yards, 3 TDs.
Mister Irrelevant does not complicate the task: he distributes the ball to the many playmakers of this team. As always, Christian McCaffrey (10 carries, 45 yards, 3 receptions, 34 yards, 1 TD) is a prime target, as is George Kittle (STATS), with whom Purdy has great chemistry.
There is a little cake for the two ghosts of the day, injured for several weeks: Deebo Samuel (2 receptions, 20 yards) but especially Elijah Mitchell (5 races, 55 yards, 2 TD).
In six games since Jimmy G.'s injury, Purdy will have led San Francisco to more than 30 points five times. San Francisco is ten consecutive wins and is heading to the playoffs in the best way.