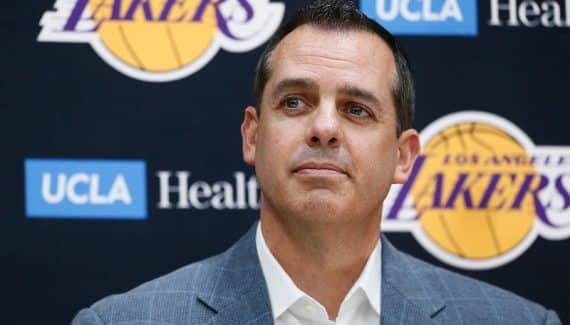 Once again eliminated in the conference semi-finals, the Sixers wasted no time this time. They fired Doc Rivers in stride, and are actively looking for a new coach. According to information from NBC Sports Philadelphiathe franchise met Frank Vogelformer coach of the Lakers, for the position of trainer.
Already passed through Philadelphia as an assistant during the 2004/05 season, Frank Vogel had his first experience as a "head coach" on the Pacers bench. Promoted in January 2011 following the dismissal of Jim O'Brien, he had led Indiana to the playoffs four times in a row, carried by the hatching of Paul George. He had twice reached the conference final, losing both times to the Heat of Dwyane Wade, LeBron James and Chris Bosh.
He then settled in Orlando for two seasons. In 2019, he joined the Lakers as a replacement for Luke Walton. In his first season, he brought Los Angeles to first place in the West, before leading the franchise to the NBA title. He will be thanked two years later after the non-participation in the playoffs in 2021/22.
He currently has a winning percentage of 52.6% in the regular season and 55.7% in the playoffs.
After a sabbatical year, Frank Vogel now seems ready to return to service. It remains to be seen if he sticks best with the portrait drawn up by Daryl Morey as for the future coach. "We are looking for someone who brings leadership and accountability. Someone who is good tactically, who knows how to have good relationships with his star players and who is good at signing star players, a coach that players want to play for, someone who will build a great franchise." explained the leader.
In this quest, Philadelphia is studying a lot of options: Frank Vogel therefore but also Nick Nurse, Monty Williams, Mike Budenholzer, Sam Cassell or Mike D'Antoni are mentioned to take over Doc Rivers' post.