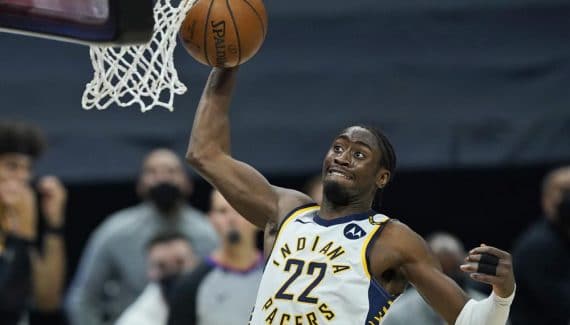 Rumors around the Pacers had prepared Caris LeVert. The winger wasn't surprised to be traded let alone be sent to Cleveland. Corridor noises clearly announced an interest from the Cavaliers for the former Brooklyn in recent weeks.
The player had prepared to face Cleveland precisely, Sunday evening, then in the afternoon, the transfer was announced. He was preferred to Donte DiVincenzo, Eric Gordon and Derrick White, the three other players on the Ohio management's "short list".
"Before the trade went through, I had Caris in my office in the gym and Chad Buchanan, our GM, on the phone with us"says Rick Carlisle at the Indy Star. "Caris was with me before the Cavaliers agreed on the final details. We knew it was close to happening, it was going to happen. We said that if a transfer was on the right track, we would talk about it with the players concerned and that they would not learn about it on social networks. "
With Caris LeVert (who is a native of Ohio) in exchange for an injured Ricky Rubio, the Cavaliers add an additional player to their rotation and thus have a little more depth, which is already good news. But if the Cavaliers have long targeted the winger, it is because his qualities are ideal for their group.
A very good player in penetration, the weak point of the Cavaliers
Cleveland lacks points on the outside, with Isaac Okoro still shy and raw offensively then a good soldier Cedi Osman, but who does not have the same strike force in attack. Collin Sexton's injury also weakened the outside sector although Darius Garland has since exploded, becoming All-Star.
The Cavaliers are the second-worst team in the league (just ahead of Denver) in penetration points with just 18.7 points per game. Caris LeVert is in the Top 10 of drives with 16 penetrations for an average of 9.5 points per game. He is therefore the ideal player to bring danger by attacking the basket.
In addition, even if it's light since he only played two series (in 2019 and 2020 with Brooklyn), he has a little playoff experience, which is not negligible in a group with a lot of young people. players.
"I wish him the best"continues the coach of the Pacers. "Cleveland is an excellent team, not far from the first places in the East. With a player like Caris, it can clearly take them to the top. With Darius Garland, he will form a dynamic duo. "
Caris LeVert
Percentage
Bounces
Season
Team
GM
Minimum
Shots
3 points
LF
Off
Def
Early
pd
party
Int
bp
CT
Points
2016-17
BRK
57
22
45.0
32.1
72.0
0.4
2.9
3.3
1.9
1.6
0.9
1.0
0.1
8.2
2017-18
BRK
71
26
43.5
34.7
71.1
0.8
2.9
3.7
4.2
2.2
1.2
2.2
0.3
12.1
2018-19
BRK
40
27
42.9
31.2
69.1
0.9
2.9
3.8
3.9
1.9
1.1
1.7
0.4
13.7
2019-20
BRK
45
30
42.5
36.4
71.1
1.1
3.1
4.2
4.4
1.8
1.2
2.6
0.2
18.7
2020-21 *
All Teams
47
32
44.1
32.6
81.1
0.7
3.9
4.6
5.2
2.2
1.4
2.2
0.6
20.2
2020-21 *
IND
35
33
44.3
31.8
82.2
0.7
4.0
4.6
4.9
2.4
1.5
2.2
0.7
20.7
2020-21 *
BRK
12
28
43.5
34.9
76.5
0.8
3.5
4.3
6.0
1.7
1.1
2.2
0.5
18.5
2021-22
IND
39
31
44.7
32.3
76.0
0.8
3.1
3.9
4.4
2.3
0.9
1.9
0.5
18.7
Total
299
27
43.7
33.4
73.7
0.8
3.1
3.9
4.0
2.0
1.1
1.9
0.3
14.7