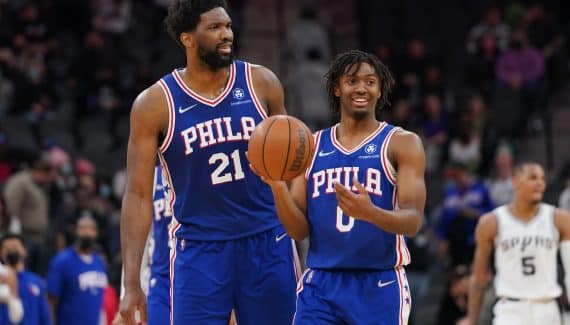 While the Sixers are currently experiencing a mixed start to the season, Joel Embiid must also deal for several weeks with another news: that of his choice of national selection.
Naturalized French since mid-July, the Cameroonian by birth also became an American citizen at the end of September. Suffice to say that, on the international scene, he will probably have to choose between Team France and Team USA, the finalists of the last Olympic Games. Just that !
On the side of Philadelphia, we allow ourselves in any case to chamber Joel Embiid on this subject, as told Tyrese Maxey.
" I tease him a bit, telling him he's French now, that Rudy [Gobert] and he will be teammates », he jokes on this point.
Like his Sixers teammates or any other player, Tyrese Maxey knows full well that he will not be able to influence the choice of Joel Embiid, even if he would love to know what the interested party thinks of this situation…
" Sometimes we wonder what's going through Joel's head [Embiid]. But I guess we'll see soon ", he adds as well.
However, it could be that Tyrese Maxey and Joel Embiid finally join forces in a different jersey than that of the Sixers, if the All-Star pivot decides to play for the United States. Because, on the side of "Rese", there will be no hesitation, if the opportunity were to arise…
" I would love to play for my country ", he recognizes, speaking of the American selection. " That would be cool. It's always an honor to represent your country, play with different players, go out there and fight. »
Shots
Bounces
Players
GM
Minimum
Shots
3 points
LF
Off
Def
Early
pd
bp
Int
CT
party
Points
Joel Embiid
3
36.5
45.3
18.2
77.8
1.7
11.7
13.3
3.7
4.0
0.3
1.3
2.7
27.0
James Harden
3
39.3
46.4
31.8
95.0
1.3
7.0
8.3
9.3
2.3
1.0
1.0
2.7
26.0
Tyrese Maxey
3
37.3
46.8
31.3
75.0
0.3
1.7
2.0
2.7
1.7
1.0
0.0
3.7
20.3
Tobias Harris
3
34.4
48.6
43.8
50.0
0.7
4.7
5.3
1.3
0.7
1.3
0.7
2.3
14.0
pj tucker
3
33.6
50.0
33.3
100.0
2.0
2.3
4.3
0.7
1.3
1.0
0.7
2.3
4.7
De'anthony Melton
3
18.6
42.9
33.3
0.0
0.0
1.7
1.7
0.3
0.0
1.3
0.0
1.3
4.7
George Niang
3
11.8
44.4
42.9
0.0
0.0
0.3
0.3
0.3
0.3
0.0
0.0
0.7
3.7
Daniel House
3
18.1
37.5
0.0
50.0
0.7
1.3
2.0
1.3
1.3
0.7
0.3
1.0
2.3
Montrezl Harrell
3
7.5
33.3
0.0
0.0
0.7
0.0
0.7
0.0
0.3
0.0
0.3
1.0
0.7
Paul Reed, Jr.
1
4.9
0.0
0.0
0.0
0.0
1.0
1.0
0.0
0.0
0.0
0.0
1.0
0.0
Matisse Thybulle
3
1.3
0.0
0.0
0.0
0.0
0.0
0.0
0.0
0.0
0.0
0.0
0.0
0.0