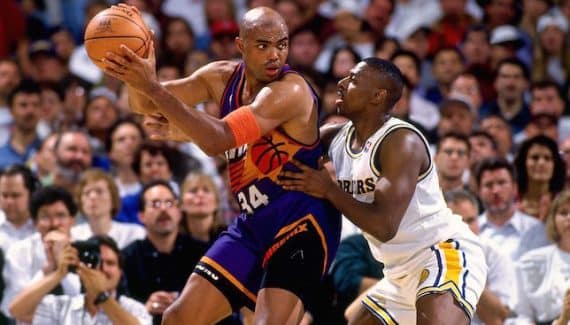 Even if he is tied with Michael Jordan, Wilt Chamberlain and now Jimmy Butler, it is Charles Barkley who partly has the fourth biggest offensive performance in playoff history with 56 points, behind Jordan of course (63 points against Boston in 1986), Elgin Baylor (61 points, in the 1962 Finals) but also Donovan Mitchell (57 points), present on the podium since 2020.
The interior of the Suns had at the time achieved an authentic masterpiece, by sticking its 56 units to the Warriors of Chris Webber, on May 4, 1994.
No double take…
A bit of ancient history: Charles Barkley is then the reigning MVP, and his Suns lead 2-0 in this first round of the playoffs in the West. On May 4, 1994, the 1993 finalists can therefore bend the case since, we recall, the first round was played in those times in the best of five rounds.
Barkley is not going to go into detail: 27 points in the first quarter, two points off the NBA record! He will finish the first half with 38 points, again only one unit from the record! In one-on-one and low post, it is impossible to contain.
"Are you going to take me two? », asked the 1993 MVP to Warriors coach Don Nelson in the first quarter. "I took a lot of shots. They caused this by not pairing up. I hope this is not the last time a defense leaves me in one-on-one because I like that. »
A "Michael Jordan" match
In an NBA focused on the inside game and which gave players time with their backs to the basket, "Sir Charles" was a monster. Even if he was not the tallest of interiors (1m95), his technical mastery and his imposing physique were enough to make the song for his defenders.
The victims of this famous evening of 1994 will remain the rookie Chris Webber but also Chris Gatling (future All-Star, in 1997) and Byron Houston. As well as Don Nelson, helpless.
"He was incredible. He took bad shots, but it came back. He took 3-pts in stepback… When he's like that, we can even go three on him, it won't change anything », recognizes Chris Webber. "It's one of the most spectacular matches I've seen in my life, player and coach alike"says Don Nelson.
Chris Mullin, teammate of Charles Barkley and Michael Jordan with the "Dream Team" in 1992, bows to his opponent and dares to compare: "It's all up there, with a Jordan game. Really. It was amazing. »
The proof with his huge final statistics: 56 points at 23/31 in shots, 14 rebounds, 4 assists, 3 steals and 1 against, in 41 minutes.
Article originally published on May 4, 2021