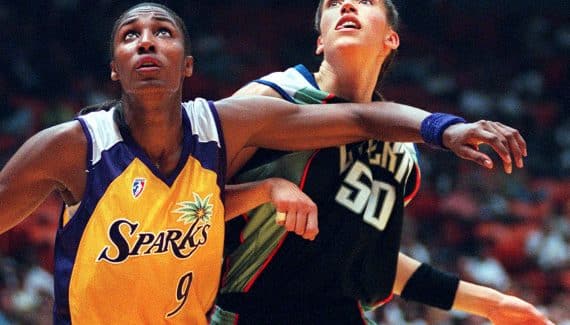 Summer 2002. Los Angeles is on the roof of American basketball. The Lakers have just achieved the triple in the NBA, the Sparks the double in the WNBA. Real exploits since since that date, no more hat-tricks have been achieved in the NBA, nor doubled in the WNBA.
This year, the Chicago Sky failed to keep its crown and while in the NBA, for twenty years, three franchises have managed the "back-to-back" (the Lakers in 2009-2010, then the Heat in 2012-2013 , finally the Warriors in 2017-2018), none in the WNBA succeeds.
"Winning a first title is hard, but winning the second is even harder"Michael Cooper announced to his Los Angeles players before the start of the 2002 season. "To achieve the double, you have to realize that you have a target behind you. Everyone is going to play their best game every night against us, so we can't have absences. "
Over the past two decades, six teams have come very close to making the double, playing the Finals the season after the title. All were eventually beaten. How to explain such a finding?
"It's hard because the teams are very strong and those who haven't won the title are very hungry", advances James Wade, the Chicago coach, in the columns of The Andscape. "You always have to be at your best level. I'm proud of the way we defended our title. We narrowly failed. You can't always win. "
"We have achieved something incredible"
In 2006, the Sacramento Monarchs, leading 2-1, are one victory away from the double against the Detroit Shock. But Nicole Powell and her teammates take a slap in Game 4 (a twenty-point loss) and fall again in the final round.
How many regrets… "Unfortunately, it's still a scar"assures Nicole Powell. "It's so difficult to win a second title in a row. "
It was already remarkable in 2002 for the Sparks, but like two decades later, no one has imitated the Los Angeles franchise (not to mention Houston, which won the first four titles in league history, between 1997 and 2000), this double takes on a new dimension for the actresses of the time.
"I don't know if, at the time, we realized that it was unique. Now that we have twenty years of hindsight and this is the last time it happened, we see that we have achieved something incredible, " begins DeLisha Milton-Jones. "At the moment, we do not think about the difficulty of the thing", confirms and concludes Tamecka Dixon. "Thinking back, it's huge because it's been unique ever since. "