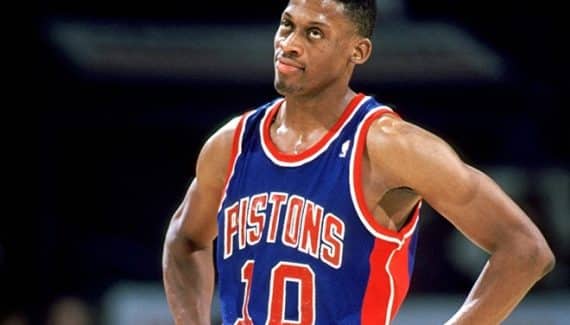 Double defender of the year in title, with his trophies in 1990 and 1991, Dennis Rodman got his hands on that of best rebounder of the league in 1991/92. Not to let go afterwards. The interior of the Pistons is then the most used player of his team and he will take 18.7 rebounds on average!
It's huge, especially for a player like "The Worm" who is 2m01 at the most. 1530 rebounds and 18.7 average, it was unheard of for twenty years and Wilt Chamberlain's 1572 rebounds (19.2 per game) in 1971/72.
Factory to catch the balloons, that season, Dennis Rodman will swallow 42% of the rebounds of his team, the highest percentage in the history of the NBA. On March 4, 1992, he grabbed a career-high 34 rebounds against the Pacers, including 18 offensively.
This is the beginning of Dennis Rodman's unchallenged domination of the rebound world. Between 1992 and 1998, he was unquestionably the benchmark in the league in this area (16.7 average over 471 games), season after season.
Proof that the interior has made history: no player since this parenthesis of the 1990s has exceeded 17 rebounds per game in a season. Nor Ben Wallace, Kevin Garnett, Dwight Howard or even Kevin Love. Not even Andre Drummond, the best of his generation yet.