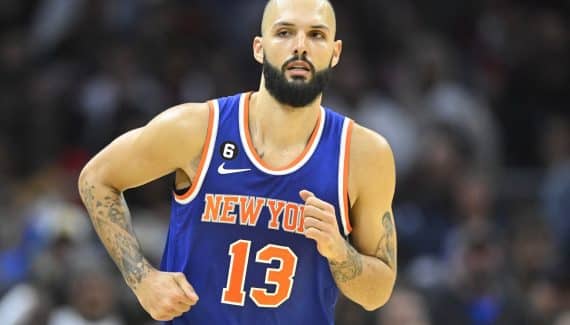 Became a substitute Evan Fournier confessed to having trouble finding his rhythm off the bench. Already in difficulty when he started at the start of the season, the Frenchman had fallen heavily statistically and in the game since he started the matches on the bench. Faced with Jazz, the question did not even arise since he did not play!
The French collected a "DNP" (Did Not Play), like Quentin Grimes for that matter, and it is an assumed choice of the coach.
"We wanted to see what it could look like"explains Tom Thibodeau, who used only nine players against Utah, at SNY. "And that gave us, I think, more rhythm. That's why we did this. »
Since the start of the season, the former Bulls and Wolves coach has been looking for solutions to put the Knicks in the right direction. Shortening his rotation is one more option for Thibodeau and it worked against the Jazz. There is therefore no reason not to persevere in this direction for a few more days, in order to confirm or not the effectiveness of this trend.
"It's a bit like getting to know our team, finding out what works best," advances the coach. "Are the players able to have the right rhythm? These are questions that we ask and that is why we try these things. »
Another element counted in the Knicks' victory on Tuesday night: a meeting between players the day before, after the loss against Oklahoma City and a defense that had taken on water, conceding 145 points. It was Julius Randle who had claimed this moment.
"It was nice to have such a dinner"assures RJ Barrett at New York Post. " It was excellent. The guys were prepared for this game"continues inside. "It united us"observes Thibodeau.
A small meeting between players, a shorter rotation: will these elements be the engines of a new start for New York? The next matches, all away, will provide a first response since the opponents will be prestigious: Denver, Golden State and Phoenix.
Shots
Bounces
Players
GM
Minimum
Shots
3 points
LF
Off
Def
Early
pd
bp
Int
CT
party
Points
Julius Randle
13
33.4
45.9
33.3
75.9
2.5
6.5
9.1
3.4
3.0
0.6
0.2
3.6
20.8
Jalen Brunson
13
32.7
49.2
29.4
86.9
0.4
3.2
3.5
6.8
1.6
1.2
0.2
2.4
19.5
Rj Barrett
13
33.9
42.8
30.6
78.0
1.0
4.4
5.4
2.8
2.2
0.5
0.2
2.2
18.9
Obi Toppin
13
17.7
48.1
40.0
100.0
0.8
3.1
3.9
1.1
1.1
0.6
0.2
0.9
10.1
Immanuel Quickley
13
21.4
36.8
28.0
81.5
0.6
4.3
4.9
3.2
1.4
1.2
0.2
1.8
8.8
Cam Reddish
13
21.3
44.1
33.3
86.7
0.3
1.5
1.8
1.1
0.7
0.7
0.5
1.7
8.3
Isaiah Hartenstein
13
25.0
55.7
21.4
78.6
3.7
4.6
8.3
0.9
1.2
0.7
1.2
2.8
7.8
Evan Fournier
13
20.0
34.4
33.3
81.8
0.2
1.9
2.1
1.7
1.1
0.7
0.2
2.2
6.9
Mitchell Robinson
8
21.8
69.7
0.0
42.9
3.5
2.9
6.4
1.0
0.6
0.4
2.3
3.6
6.5
Derrick Rose
13
13.3
38.3
35.3
100.0
0.3
1.6
1.9
2.2
1.2
0.4
0.2
0.6
6.2
Svi Mykhailiuk
3
2.0
100.0
100.0
0.0
0.0
0.7
0.7
0.0
0.3
0.0
0.0
0.0
3.0
jericho sims
8
10.9
100.0
0.0
50.0
1.3
1.8
3.0
0.1
0.3
0.1
0.8
1.9
2.9
Quentin Grimes
5
8.0
33.3
25.0
100.0
0.2
0.4
0.6
0.4
0.4
0.0
0.2
1.2
2.0
Ryan Arcidiacono
3
2.0
0.0
0.0
0.0
0.0
0.7
0.7
0.3
0.0
0.3
0.0
0.3
0.0
Trevor Keels
1
1.0
0.0
0.0
0.0
0.0
1.0
1.0
0.0
0.0
0.0
0.0
0.0
0.0
Miles Mcbride
4
2.6
0.0
0.0
0.0
0.0
0.0
0.0
0.5
0.0
0.0
0.0
0.3
0.0