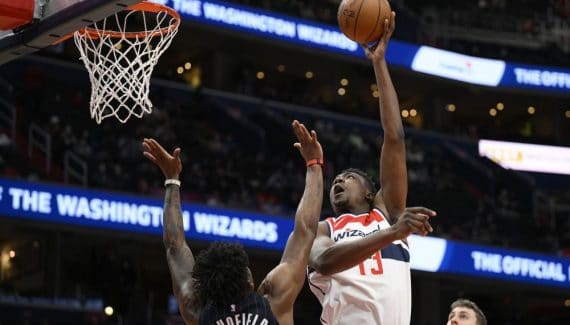 It was a year ago, almost to the day. Author of a very promising start to the 2020/21 season, Thomas Bryant collapsed after two minutes of play against Miami, victim of a ruptured cruciate ligament in his left knee.
A year later, a lot has changed at the Wizards. The workforce has been turned upside down, the coach is different. The only thing that has not changed is the hope that reigns around Thomas Bryant within the club. His return was therefore greeted with a worthy ovation, and crowned with a 3-pointer in the corner in stride.
" It was great. I tried to stop myself from smiling, but I couldn't. Because the wait has been so long. To be able to hear your name again, it brings back good memories, and it prepares me to produce new ones., did he declare after the meeting. "I tried to stay calm all day until the game. I felt good, physically, in my legs and my knee. In general, I felt really good and in good condition.
Last two months difficult to manage mentally
His new coach, Wes Unseld Jr, also appreciated this moment which marked a new start for the player and represents a significant reinforcement for the Wizards racket.
"He looked good. It's always hard when your minutes are a bit segmented and you can't have a longer period of play, but just having him with us, in an official match, to find his feelings, his rhythm, it was already very good for him", he stressed. "I would like and hope that we will be able to see more over time even if we will remain guided by the advice of the medical staff. But I was happy for him and what he showed".
The interior comes back from afar and admits having suffered at least as much mentally as physically. His seriousness and his application paid off since his return was a success even if he only played 12 minutes for 6 points at 2/2 shooting, 1 rebound and 1 assist.
"It's really hard to be away from what you love to do the most. But like I said, it gives you a new way to enjoy and love basketball when you can play it again. You cherish those moments more than anything.", he added. "The biggest challenge for me over the past two months has really been trying to stay patient to get to this point. A lot of times you feel like you're feeling good and you just want to get back to playing with the team. But you have to stay disciplined, do your job, and that was the hardest part for me. I tried to stay the course, to stay focused on my rehabilitation, and my family and friends have also helped me a lot".
After rehabilitation, reintegration
This first match also marks the beginning of a new challenge for the interior, to find his best condition and integrate into a new group, with different game principles from what he has been able to know until then. Wes Unseld Jr. notably asked for patience when it comes to his defensive impact.
" It is not easy. Obviously, we all have plans, but it's difficult when you don't have a lot of training sessions to be able to look at it in a more concrete way, to try different options. We must of course try to help them find their best condition, but also choose the right associations, and in this context, it is difficult. It's going to be a daily job.", he first explained on how he intended to put his interior back in the bath. "I think he will be a very good defender, he just has to learn the specifics of what we do, review our terminology which he continues to integrate, the situations and the places where we want him to be on the "pick-and-roll" depending on the system. He's going to have to refine that, and that will come with time and repetition for him to be completely comfortable."
Thomas Bryant will be able to continue to gain momentum in the next installments, Washington arriving slowly in the middle of an eight-game series at home.
Thomas bryant
Percentage
Bounces
Season
Team
GM
Minimum
Shots
3pts
LF
Off
Def
Early
Pd
Fte
Int
Bp
Ct
Points
2017-18
ALL
15
5
38.1
10.0
55.6
0.2
0.9
1.1
0.4
0.4
0.1
0.1
0.1
1.5
2018-19
WAS
72
21
61.6
33.3
78.1
1.6
4.7
6.3
1.3
1.8
0.4
0.8
0.9
10.5
2019-20
WAS
46
25
58.1
40.7
74.1
2.1
5.1
7.2
1.8
2.2
0.5
1.2
1.1
13.2
2020-21
WAS
10
27
64.8
42.9
66.7
1.8
4.3
6.1
1.5
3.1
0.4
1.1
0.8
14.3
Total
143
21
60.0
36.2
74.8
1.6
4.4
6.0
1.4
1.9
0.4
0.9
0.9
10.7