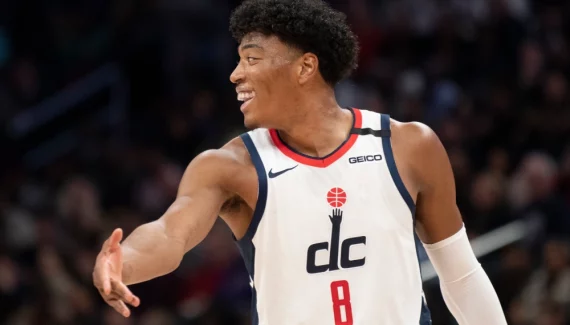 Last night in Utah, the Wizards lost for the 14th time in 16 games, and they have the 5th worst record in the NBA with 12 wins in 33 games. While we have just crossed the first third of the regular season, the franchise of the capital is too dependent on Bradley Beal or Kristaps Porzingis and when one of the two is not there, it is the berezina.
As a result, management would be looking for new blood and Mark Stein reports an interest in Jae Crowder, the Suns winger, who has been training in his corner since the start of the season. Holder last year, he lost his place in favor of Cameron Johnson, and by mutual agreement with his leaders, he chose to wait for his transfer.
The Bucks, the Heat or the Hawks were interested, and the Wizards also contacted the Suns. The latter would have refused an offer centered around Rui Hachimura ! The Japanese winger is slowly recovering from psychological issues, and he has only played 16 games this season. That night, despite the absences of Kristaps Porzingis and Deni Avdija, he was a substitute, and he did the bare minimum. Not extended this summer, he will be a free agent on July 1, and everything suggests that Washington will not retain him…
If the deal didn't happen, it's because the Suns are looking for someone capable of starting, and probably a veteran. For the moment, the Suns still have not found their happiness, and Crowder still has not played a single minute this season.
Jae Crowder
Percentage
Bounces
Season
Team
GM
Minimum
Shots
3 points
LF
Off
Def
Early
pd
party
Int
bp
CT
Points
2012-13
DAL
78
17
38.4
32.8
64.4
0.5
2.0
2.4
1.2
1.6
0.8
0.6
0.2
5.0
2013-14
DAL
78
16
43.9
33.1
75.4
0.6
1.9
2.5
0.8
1.3
0.8
0.5
0.3
4.6
2014-15*
All Teams
82
20
42.0
29.3
77.3
0.9
2.7
3.6
1.2
1.7
0.9
0.6
0.3
7.7
2014-15*
BOS
57
24
41.8
28.2
76.2
1.1
3.6
4.6
1.4
2.0
1.0
0.7
0.4
9.5
2014-15*
DAL
25
11
43.4
34.2
90.9
0.5
0.7
1.2
0.5
1.0
0.6
0.4
0.2
3.6
2015-16
BOS
73
32
44.3
33.6
82.0
1.0
4.2
5.1
1.9
2.7
1.7
1.1
0.5
14.2
2016-17
BOS
72
33
46.3
39.8
81.1
0.7
5.1
5.8
2.2
2.2
1.0
1.1
0.3
13.9
2017-18 *
All Teams
80
26
40.4
32.3
81.8
0.7
2.7
3.4
1.2
2.3
0.8
0.9
0.3
9.7
2017-18 *
KEY
53
25
41.8
32.8
84.8
0.8
2.5
3.3
1.1
2.3
0.8
0.8
0.2
8.6
2017-18 *
UTH
27
28
38.6
31.6
76.8
0.7
3.1
3.8
1.5
2.3
0.9
1.2
0.3
11.8
2018-19
UTH
80
27
39.9
33.1
72.1
0.8
4.1
4.8
1.7
2.1
0.8
1.1
0.4
11.9
2019-20 *
All Teams
65
29
40.1
34.3
77.6
0.8
5.1
5.9
2.5
2.2
1.1
1.1
0.4
10.5
2019-20 *
SAME
45
29
36.8
29.3
78.9
0.9
5.3
6.2
2.8
1.9
1.0
1.2
0.3
9.9
2019-20 *
MIA
20
28
48.2
44.5
73.3
0.6
4.8
5.4
1.8
2.9
1.3
0.8
0.5
11.9
2020-21
PHX
60
28
40.4
38.9
76.0
0.5
4.2
4.7
2.1
2.1
0.8
0.9
0.5
10.1
2021-22
PHX
67
28
39.9
34.8
78.9
0.5
4.8
5.3
1.9
2.6
1.4
0.8
0.5
9.4
Total
735
25
41.7
34.6
77.7
0.7
3.6
4.3
1.6
2.1
1.0
0.9
0.4
9.6