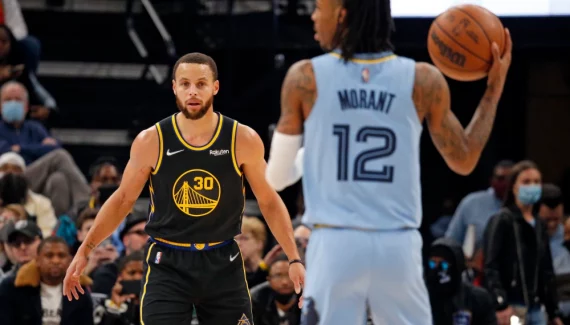 After an impressive start, 27 wins for 6 defeats until Christmas, the Warriors know their first blow less well for several days. Steve Kerr and his men have been in the negative for 7 games (3 wins, 4 losses) and the latest loss, suffered last night against the Grizzlies who won their 10th consecutive game, served as the first "warning".
Quotes are in order because at 30 wins and 10 losses, the second best record in the league only behind the Suns at mid-season, everything is going pretty well in the Bay. But the franchise intends to regain its standards and not let itself slip on a bad slope, as during the last two seasons.
Restoring Band Identity with Klay Thompson
" In a way, the next three or four weeks will re-establish our identity as a team. " first analyzed Steve Kerr, before noting that the recent return of Klay Thompson was going to require some adjustments. " We did a good job during these first 40 games, especially defensively. A lot of guys played important minutes, with established roles. Now it's all going to be shaken up a bit because Klay is back and he's going to play a major role. "
" We learned a lot about our young guys. So this next month, we will redistribute the cards, try different combinations and try to find our habits for the final stretch, then the playoffs. concluded the Warriors coach, who therefore warns that there will be some turbulence.
" We are where we want to be " put Stephen Curry into perspective. " We just have to understand that the margins to win matches are low at this level. It's a good reminder of how hard it is to win in this league, especially when you're playing against good teams. Discipline, starting matches better, losing fewer balls, controlling what we can control, that's what will put us in a better position to win. "
The Warriors will soon have the opportunity to apply all this as they prepare to play a perilous "back-to-back" on the East Coast this week: the Bucks on Wednesday, then the Bulls the next day.
Shots
Rebounds
Players
MJ
Min
Shots
3pts
LF
Off
Def
Early
Pd
Bp
Int
Ct
Fte
Pts
Stephen curry
36
34.8
42.2
38.7
91.9
0.6
4.7
5.3
6.0
3.5
1.4
0.5
2.1
26.8
Andrew Wiggins
35
31.5
48.6
41.8
70.5
1.2
3.2
4.4
1.9
1.6
1.0
0.6
1.7
18.8
Jordan poole
33
29.8
44.6
33.7
89.0
0.2
2.9
3.2
3.4
2.4
1.0
0.2
2.8
17.4
Klay thompson
1
19.9
38.9
37.5
0.0
1.0
2.0
3.0
1.0
2.0
0.0
1.0
3.0
17.0
Damion lee
28
20.7
44.0
34.7
85.7
0.3
2.8
3.1
1.0
0.6
0.5
0.1
1.6
8.3
Otto Porter
33
21.2
45.7
38.9
75.0
1.1
4.0
5.1
1.5
0.6
1.0
0.5
1.3
8.1
Draymond green
34
29.9
53.7
28.6
59.7
1.1
6.4
7.6
7.4
3.1
1.4
1.2
2.8
7.9
Gary Payton II
38
16.8
64.6
41.8
59.0
1.1
2.5
3.6
0.8
0.5
1.3
0.2
1.6
7.9
Nemanja Bjelica
39
15.1
45.2
37.0
67.4
0.8
3.0
3.8
1.5
1.1
0.6
0.3
1.5
6.6
Kevon Looney
39
20.0
54.1
0.0
58.9
2.4
4.2
6.7
1.6
0.8
0.5
0.8
2.7
6.0
Jonathan kuminga
28
9.7
47.2
26.5
60.0
0.4
1.3
1.7
0.3
0.7
0.4
0.1
1.2
4.9
Juan Toscano Anderson
37
16.5
50.4
23.9
61.0
0.6
2.4
3.0
2.2
1.1
0.8
0.4
1.6
4.8
Andre Iguodala
20
20.8
41.4
23.1
75.0
0.8
2.9
3.6
4.3
0.8
0.8
0.7
0.9
4.7
Quinndary Weatherspoon
3
5.3
100.0
0.0
0.0
0.0
0.3
0.3
0.0
0.3
0.3
0.3
1.7
2.7
Chris Chiozza
19
11.1
27.5
34.4
100.0
0.4
0.8
1.3
1.7
0.9
0.4
0.0
1.1
2.1
Moses Moody
24
7.0
35.2
13.3
72.7
0.2
0.9
1.0
0.3
0.2
0.1
0.2
0.5
2.1
Jeff Dowtin
4
6.9
50.0
0.0
0.0
0.2
1.5
1.8
0.8
0.2
0.0
0.2
0.5
1.5