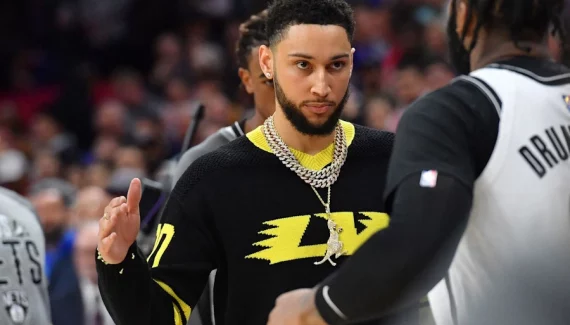 Booed and insulted from the warm-up, then chambered after a simple dunk under the circle, Ben Simmons will return to Brooklyn with a victory in hand. He only asked for that, and his teammates were keen to allow him to "take revenge" on his former team. They did even better than that as they silenced the Wells Fargo Center with a 29-point success (129-100), and the spectators started leaving eight minutes from the end!
" It was a good vibe to start, and it didn't end the same quipped Kevin Durant, best player of the game. "I think we definitely all played for him. We consider Ben as a brother, and we knew the environment would be hostile, and we knew he couldn't play. We wanted to make the public focus more on the match than on him. They focused on the pitch, and it's hard to sing things against Ben Simmons when you lose like that. "
"He just has to sit and put up with people who act like kids"
Kevin Durant is well placed to talk about it since he himself had played in a detestable atmosphere during his first return to OKC.
"Ben doesn't have the opportunity to play at the moment, he just has to sit and put up with people who act like kids," said Kevin Durant before the game. "They're going to throw insults at him because he didn't want to play basketball for them anymore. When you think about it, it's funny as a situation, but it's the sport in which we currently live. "
A spectator, placed behind the bench, will even go too far in insults and behavior, and he will be kicked out of the room. A habit now at the Wells Fargo Center…
"If you take it out on Ben, you take it out on us"
Another player who has been booed in the past by his former audience, Kyrie Irving. In Cleveland as in Boston, he had not been forgiven for his departures.
"I think playing for Ben and tonight means something to Ben. And not just for Ben, but also for Andre and Seth," Irving said. "When you get traded in this league, it's not easy to deal with. You have to pick up your things and leave your house. You live in a city and you need to be transferred to another city. It's not always easy, and we tried to welcome it with open arms. Playing tonight, we really felt like Ben was in our hearts. You could see it, we just wanted to go out there and play for him and play well. … If you take it out on Ben, you take it out on us. If you take it out on any other team member, you take it out on all of us, and that's our mentality. "