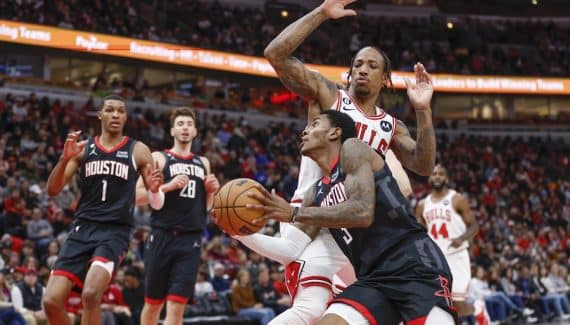 " We weren't good on defense. One guy gained confidence, which gave the rest of their team confidence. The "guy" Zach LaVine refers to is called Kevin Porter Jr.. On the floor of the Bulls last night, the leader of the Rockets signed a beautiful festival of address to guide the Rockets to victory.
" I'm the playmaker so it really starts with me, making the game easier, finding my partners in the right spaces and giving them confidence when they get the ball. […] This is one of those games where you see the result of our progress ", Appreciates the 22-year-old player.
It must be said that the low defensive level displayed by the Bulls on this meeting helped Kevin Porter Jr. and the Texans to unfold their basketball. " We have a competitive group, probably tired of losing and disappointed with how we ended our home streak (note: five losses in a row after victories against the Bucks and Suns). We got a group of good guys who did good things ", describes Stephen Silas.
Good things like those 28 assists generated to score 50 baskets in the game (50/90). " We had a very good match in terms of sharing the ball. We watched the video a lot. We arrived focused on the game plan. We were phenomenal in terms of cohesion in attack and defense in the last game. We wanted to continue this momentum "Notes Kevin Porter, whose team is the worst in the league in assists per game (21.5).
Nikola Vucevic victimized
Houston certainly posted some good leather-sharing streaks. But Porter still scored a lot of his shots out of the dribble, on one-on-one. " We have a lot of talent on this team. We don't all have to dribble, dribble, dribble ", however, repeats the playmaker, best passer of his team with 9 caviars. He completed this total of 7 rebounds and especially his record for the season in "scoring" with 36 points, and excellent percentages (14/22 on shots including 6/12 from afar).
He took things in the last quarter, where Houston increased its advantage, with 15 points scored in the last eight minutes of play. The Rockets had the good idea to cause almost systematic "switches" in this period, so that Nikola Vucevic finds himself defending on the southpaw. The latter had no difficulty in sanctioning the pivot of the Bulls.
Despite this final "one-man-show", the MVP of the evening repeats it: " We want everyone to touch the ball and stay in tune with the game. We are focused on that. »
Kevin Porter, Jr.
Percentage
Bounces
Season
Team
GM
Minimum
Shots
3 points
LF
Off
Def
Early
pd
party
Int
bp
CT
Points
2019-20
KEY
50
23
44.2
33.5
72.3
0.4
2.8
3.2
2.2
2.7
0.9
1.9
0.3
10.0
2020-21
HOO
26
32
42.5
31.1
73.4
0.8
3.0
3.8
6.3
2.4
0.7
3.5
0.3
16.6
2021-22
HOO
61
31
41.5
37.5
64.2
0.7
3.7
4.4
6.2
2.6
1.1
3.2
0.4
15.6
2022-23
HOO
31
34
42.3
31.5
77.3
1.5
4.0
5.4
5.5
2.9
1.5
3.9
0.5
18.7
Total
168
30
42.4
34.5
71.0
0.8
3.4
4.1
4.9
2.6
1.1
3.0
0.4
14.6