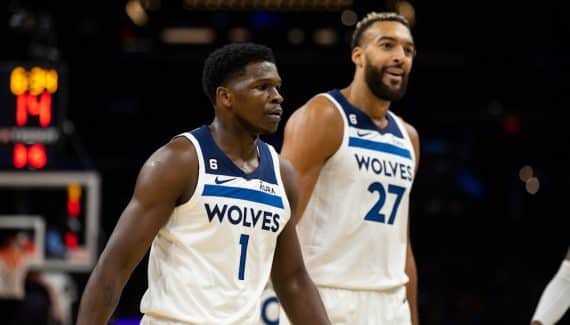 If the Wolves have settled into first place in the Western Conference, it is because the almost unchanged squad is a year older, there are no injuries, but also because the team has the 3rd best defense in the NBA with 107 points conceded on 100 possessions. Rudy Gobert has regained its best level, and the qualities of Mike Conley and Jaden McDaniels in this sector are recognized by all.
But the Wolves can also count on a Anthony Edwards determined to become one of the best two-way players in the NBA. This is what his coach Chris Finch promised him 18 months ago: "He can become one of the best two-way players in the league. He continues to focus fully on defense, learning defensive schemes, rotations. He works more and more and progresses to understand these things."
We must not only defend on the stars…
That was a year and a half ago, and since then Edwards has understood that you also have to defend everyone, and not just the superstars. It was Rudy Gobert who pointed this out to him.
"When he defended against a very good player, he took up the challenge", remembers Gobertwho took him aside a year ago. "But when he was defending on another player who maybe wasn't as famous or as threatening, he would relax. There were ups and downs. I tried to push him, to tell him that it wasn't easy: 'Everyone knows you can be very good. You can shoot 30 points per game, you'll get a big contract, you'll be an All-Star… But if you want to be a great player, win a title and be different from all these guys, you have to defend!' I focused on holding him accountable in this area. »
A successful mission even if Gobert admits that it took him time to find the right words to motivate him. Because defense is not really what fills the rooms, and few young people are ready to concentrate on it.
"It's defense that will make you a champion"
"I told myself that I had to find a way to make him adopt this state of mind with all the opponents" continues the Frenchman. "And I told him, 'Man, this is tough. The average fan isn't going to care if you take a delay screen, if you take the defensive drop, or if you avoid the screen… They won't care about that, but it's the defense that makes you a champion. And I want to be part of it.' We have a very good relationship. I love her so much. He is a very honest, very sincere person, and he wants to win. »
Having become one of the best attackers in the NBA, Anthony Edwards does not seem to mind his progress on defense. "I don't let my opponent score on me" he answers about his state of mind, before recalling the role of his teammates. "You can't do anything without your partners, and that's how I see things. We cannot win without them. Leadership-wise, I'm like that, and I don't even think about it. I'm just trying to find ways to improve and I find it fun. »
So there's no question of getting excited about this great start to the season. "We still have a lot of games to play, and I can't really say what we're going to do or what's going to happen."concludes Edwards. "But as long as we continue to improve every day and listen to Finch, we will be fine. »