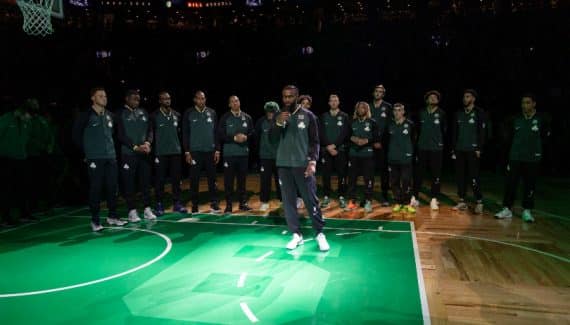 Before facing the Sixers at the start of the 2022/23 season, the Celtics obviously paid tribute to Bill Russell, the most successful man in NBA history, who died on July 31.
It was first Jaylen Brown who gave a speech in tribute to the former kingpin of the franchise.
"Bill Russell was a great man"began Jaylen Brown. "But what did that mean?" What defined his greatness? The person he was as a mentor, a father, a member of his community, and also certainly his 11 titles won here in Boston, as a player and a coach. But Bill Russell was above all a great man for what he stood for and for the people he represented. At the height of racial tensions in our society, he represented a form of nobility and honor that transcended sport. The respect he received from people will live on forever, and I'm grateful that I got to shake his hand. He was a true champion, on and off the pitch, and our gratitude to him is endless. I started by saying that Bill Russell was a great man. Bill Russell was the greatest of men. »
The fullback/winger's speech was followed by a poem declaimed by Boston Poet Laureate Porsha Olayiwola.
Then, a video traced the career of Bill Russell, both for his accomplishments on the ground and for his social commitment. Finally, the ceremony ended with a performance by singer Aloe Blacc.
To honor Bill Russell, the Celtics painted "6s" into every racquet at the TD Center. And like all the teams in the league, they will also wear the number of the former pivot on their jersey, all season long. In addition, they wore their "City Edition" jersey tonight, which multiplies the references to Bill Russell.