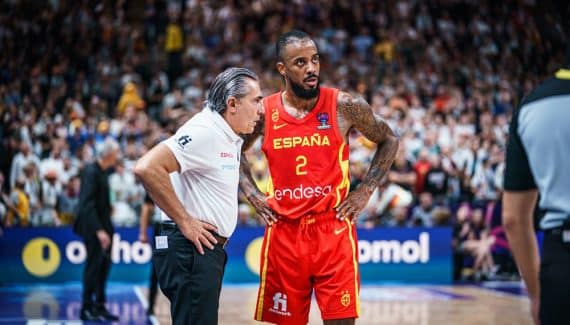 Yet reigning world champions, Spain did not seem to have the weapons to win gold at Euro 2022. With the successive retirements of the golden generation and the injuries of Ricky Rubio and Sergio Llull, La Roja seemed to lack talent. compared to the favorites of the competition: Serbia, Slovenia or Greece.
But with the naturalization of Lorenzo Brown, his experience in high-stakes matches and a coach who always gets the best out of his group, Spain is once again in the final of the competition…
"I can't find the words to congratulate my players. They exceeded all expectations. This medal is probably the most unexpected but, for me, the most satisfying", said Sergio Scariolo. "This team is built on hard work, solidarity, team basketball, defensive effort, the desire to exceed our limits, physically essentially. With, again, a lot of guts in the fourth quarter. Ten consecutive successful free throws and some big shots too. "
On Sunday, it is therefore France who will face Spain, in a duel of the best European enemies…
"It's always exciting"continues the Spanish coach before this new final against the Blues. "They always have gigantic teams. Super athletic teams, very talented teams. With NBA players or top Euroleague players. I respect coach Vincent Collet and our opponent. But it's a game. Anything can happen in a game."
For Sergio Scariolo, this final also bears the mark of Iberian basketball culture, especially since Spain has multiplied the international finals this summer, at all levels (hopeful, women and men).
"It's the ninth final this summer for Spain"recalled the coach. "I don't know if you measure the dimension of this number. In each competition, Spain puts a team in the final. I'm happy for my players, I want them to enjoy it because it's also their accomplishment. The coaches, the players, every year they work and they put something on the table to keep growing. It doesn't happen overnight. It is the result of many years of hard work. "