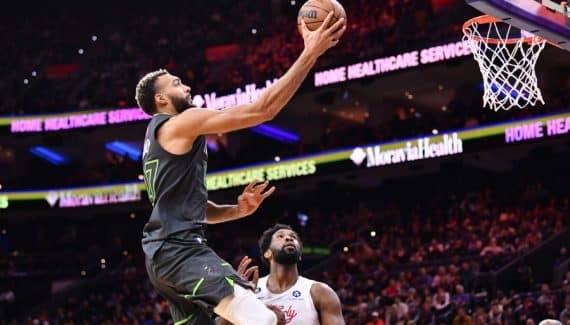 It's a soap opera that started this summer, when the process of naturalization of Joel Embiid officially completed. One year from the World Cup in Asia, and especially two years from the Olympic Games in Paris, the pivot of the Sixers is indeed eligible for the French selection, within which he would form an XXL racket with Rudy Gobert and even Victor Wembanyama (if the latter were to be selected by Vincent Collet…).
" No one could [nous arrêter] » also ensured the pivot of the Wolves, before measuring his words further. " But the international game is not just about piling up the best players on paper. »
The message is sent: Joel Embiid is welcome in the French team since it would constitute a reinforcement of weight, but he will not pass over the French team.
" If his heart is with us, and he makes this choice for the right reasons, then this would be a huge opportunity for our team. But I repeat, the most important thing, for the group, for him and for me, is that this choice comes from the heart. continues the triple Defensive Player Of The Year. " Either he is 100% committed or he is not. We are not coming [en Equipe de France] just to show off. »
Rudy Gobert thinks in particular of group life at international rallies, while Joel Embiid has a reputation for setting himself apart from the group at the Sixers.
" I just want his choice to be motivated by the right reasons. That he understands that the French team works differently from the NBA. he adds. " We have rules, ways of doing things. Often we all dine together, each one does not make his life on his side. They are two totally different teams. »
Tobias Harris and Matisse Thybulle include Rudy Gobert
Teammate of Joel Embiid for almost four years, Tobias Harris is well placed to understand where Rudy Gobert is coming from.
" I see what [Rudy] means. Took me a while to get him to come [aux repas de groupe] confirms the winger. "I had a discussion with him about the importance of taking part in these activities. He doesn't have to come to all the outings without exception, because he also has family imperatives and other things, but his presence is extremely important for the group. »
Same refrain at Matisse ThybulleAustralian international and who like Rudy Gobert therefore knows well the different functioning of a group during an international competition, in comparison with the NBA.
" All the guys are sacrificing their summer, and signed up to take part in this project. So there are team meals, everyone is there. Everything is done as a team, there is no room for individualism. The NBA is really different from this point of view concludes the Boomer. " For Joel, who has never experienced this before, it would definitely be a new experience. »
Rudy Gobert
Percentage
Bounces
Season
Crew
GM
Minimum
Shots
3 points
LF
Off
Def
Early
pd
party
Int
bp
CT
Points
2013-14
UTH
45
10
48.6
0.0
49.2
1.1
2.3
3.4
0.2
1.3
0.2
0.7
0.9
2.3
2014-15
UTH
82
26
60.4
0.0
62.3
3.2
6.2
9.5
1.3
2.1
0.8
1.4
2.3
8.4
2015-16
UTH
61
32
55.9
0.0
56.9
3.4
7.5
11.0
1.5
2.7
0.7
1.9
2.2
9.1
2016-17
UTH
81
34
66.1
0.0
65.3
3.9
8.9
12.8
1.2
3.0
0.6
1.8
2.6
14.0
2017-18
UTH
56
32
62.2
0.0
68.2
3.0
7.8
10.7
1.4
2.7
0.8
1.9
2.3
13.5
2018-19
UTH
81
32
66.9
0.0
63.6
3.8
9.0
12.9
2.0
2.9
0.8
1.6
2.3
15.9
2019-20
UTH
68
34
69.3
0.0
63.0
3.4
10.1
13.5
1.5
3.2
0.8
1.9
2.0
15.1
2020-21
UTH
71
31
67.5
0.0
62.3
3.4
10.1
13.5
1.3
2.3
0.6
1.7
2.7
14.3
2021-22
UTH
66
32
71.3
0.0
69.0
3.7
11.0
14.7
1.1
2.7
0.7
1.8
2.1
15.6
2022-23
MIN
20
32
64.5
0.0
73.2
3.8
8.1
11.8
0.9
3.1
0.7
1.6
1.4
13.6
Total
630
30
65.3
0.0
64.1
3.3
8.3
11.7
1.3
2.6
0.7
1.6
2.2
12.5