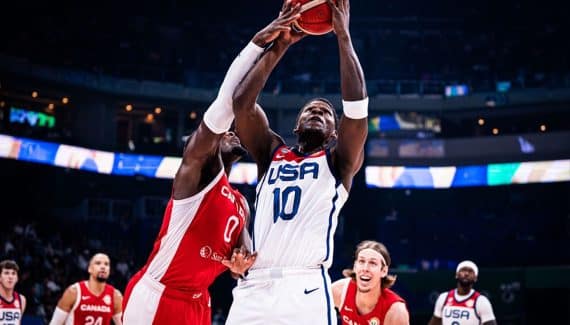 We continue to look back at the notable performances of the 2023 World Cup. And after the highlights of Dennis Schröder and Shai Gilgeous-Alexander, it's time for those of Anthony Edwards.
While Steve Kerr initially wanted to use him as a sixth man, the Wolves full-back/winger quickly established himself as his offensive spearhead. He thus finished the competition in the best five of the tournament, turning at 18.9 points at 48% success, 4.6 rebounds, 2.8 assists and 1.1 interceptions on average.
More comfortable in open play, with spaces in front of him, like against Lithuania (35 points in 29 minutes), Anthony Edwards still often managed to make his power and support speak for themselves.
In any case, it was in the impact towards the circle that he hurt his opponents the most, who much preferred to see him draw behind the 3-point line, as with his 2/8 against Germany in semi final…