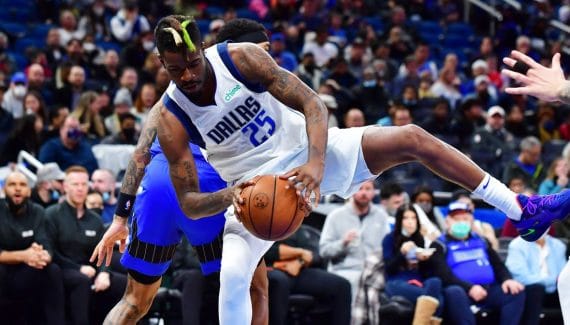 It took him no less than three months, but Reggie Bullock is finally finding its stride with the Mavericks, also in great shape since early January (14 wins, 5 losses).
In his last six games, the Mavericks shooter has averaged 18.8 points, 5.7 rebounds and 1.5 interceptions, with superb success percentages: 51% on shots, 100% on free throws and, above all, 49% at 3 -pts (in almost 10 attempts)!
Suffice to say that Reggie Bullock perfectly compensates for the absence for several weeks of Tim Hardaway Jr, injured in the foot, the usual Dallas house sniper alongside Luka Doncic, Jalen Brunson or Kristaps Porzingis.
" My shot volume really matters in this.", he confessed, regarding its current form. " As soon as I can attempt a shot, I feel like I can pull it off, so I have to keep having that self-confidence. I believe I am one of the best shooters in the league, so I have to continue to prove it and be consistent. Even if the other teams will, of course, try to prevent me from attempting my 3-pts."
A long-awaited revival
Full of confidence, after his mediocre start to the season (only 6.2 points on average, 38% on shots and 31% at 3-pts before Tim Hardaway Jr's injury), Reggie Bullock has been reborn for almost two weeks. Giving back to his teammates all the confidence they give him.
" I know my teammates will find me, so I have to be able to shoot and shoot with confidence, like I do now. They believe in me, so I gotta keep taking these shots ", he estimated as well.
In the victory over the Hawks last night (22 points and 9 rebounds, 6/10 to 3-pts), Reggie Bullock also managed a third consecutive game with at least 20 points scored. Flaming in particular in the second half (16 points, 4/5 to 3-pts), when Luka Doncic and Jalen Brunson, then Trey Burke, were handicapped by faults.
" This team is rich and we saw it when Trey [Burke] came in, that he was aggressive and that he boosted us, scoring and creating "explained the former member of the Knicks, who was (in part) able to take revenge on Trae Young and the Hawks, this Sunday evening. " The coach always talks about it: when a player is on the sidelines, the next in the rotation must be ready to replace him. This is the state of mind in our team. It's all about opportunities."
Determined in scoring, thanks to his exterior address, Reggie Bullock also stands out in defense, as when he is assigned to the best opposing exterior. A "3&D" role that he already occupied in the past, in New York for example, and to which he is finally starting to get used to in Dallas.
" That's why I was signed here: to be an iNFLuential player on both sides of the court. So I just play as hard as I can on defense and take open shots on offense. ", added on this subject the winger of 30 years.
The Mavericks are always flying higher
Like all of the Mavericks, Reggie Bullock is currently surfing on a positive dynamic. The recent results of the Texas franchise have also allowed it to move up into the Top 5 of the Western Conference (31 wins – 23 losses), while the All-Star break is fast approaching.
" Our confidence is at its highest ", delivered the 25th choice of the Draft 2013, about this collective dynamic. " Before winning our two matches [contre Philadelphie puis Atlanta en fin de semaine dernière, ndlr]we lost two games [contre OKC et Orlando] where we have strayed from our defensive principles. We therefore tried to keep our opponents under 100 points again, to make life difficult for them on each possession. It was essential for us."
It now remains to be seen whether, with the return of Kristaps Porzingis and then (potentially) Tim Hardaway Jr, Reggie Bullock will manage to keep his starting position with the Mavs, which he has regained for two games…
" Everyone is a starter on this team and everyone has the opportunity to be. He was a starter at the start of the season and he is now. So we will see what the preferred combinations will be once we are at 100%. ", concluded, without getting too wet, his coach Jason Kidd.
Reggie Bullock
Percentage
Bounces
Season
Team
GM
Minimum
Shots
3 points
LF
Off
Def
Early
pd
party
Int
bp
CT
Points
2013-14
LAKE
43
9
35.5
30.1
77.8
0.3
1.0
1.3
0.3
0.6
0.2
0.3
0.0
2.7
2014-15*
All Teams
36
9
34.3
32.6
66.7
0.0
1.4
1.4
0.2
0.5
0.3
0.2
0.1
1.9
2014-15*
LAKE
25
11
42.6
38.5
80.0
0.0
1.6
1.6
0.2
0.7
0.4
0.2
0.1
2.6
2014-15*
PHX
11
7
6.2
0.0
50.0
0.1
0.8
0.9
0.2
0.2
0.1
0.2
0.2
0.4
2015-16
TED
37
12
43.9
41.5
93.3
0.4
1.5
1.8
0.7
0.8
0.3
0.2
0.1
3.3
2016-17
TED
31
15
42.2
38.4
71.4
0.4
1.7
2.1
0.9
0.7
0.6
0.3
0.1
4.6
2017-18
TED
62
28
48.9
44.5
79.6
0.4
2.1
2.5
1.5
1.1
0.8
0.8
0.2
11.3
2018-19 *
All Teams
63
30
41.2
37.7
85.9
0.4
2.4
2.8
2.1
1.7
0.6
1.0
0.2
11.3
2018-19 *
TED
44
31
41.3
38.8
87.5
0.5
2.3
2.8
2.5
1.8
0.6
1.2
0.1
12.1
2018-19 *
ALL
19
28
41.2
34.3
81.0
0.1
2.5
2.6
1.1
1.6
0.8
0.6
0.4
9.3
2019-20
NYK
29
24
40.2
33.3
81.0
0.5
1.9
2.3
1.5
1.9
0.9
0.7
0.1
8.1
2020-21
NYK
65
30
44.2
41.0
90.9
0.3
3.2
3.4
1.5
2.3
0.8
0.7
0.2
10.9
2021-22
DAL
45
24
40.3
34.2
84.4
0.4
2.9
3.3
1.0
1.3
0.5
0.5
0.1
7.5
Total
411
22
43.0
38.5
84.4
0.3
2.1
2.4
1.2
1.3
0.6
0.6
0.1
7.6