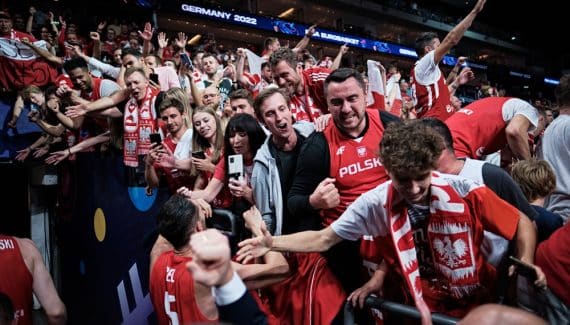 These are two extremely close teams who faced each other at the start of this second day of the round of 16 of EuroBasket 2022. The gap has never exceeded 10 points, on one side and on the other.
Ukraine thus led very slightly (45-42) at half-time but Poland seemed less on the kneecaps. And with 24 points from AJ Slaughter or 22 points from Mateusz Ponitka, Igor Milicic's players gradually got their hands on the game, with in particular 13 offensive rebounds and 15 points on "second chance".
In the last five minutes, however, there was still only a six-point difference (84-78) and everything seemed possible for Ukraine, but after two missed free throws from Alex Len and a 3-point from Mateusz Ponitka, Poland looked in control. With the energy of despair, Svi Mykhailiuk and his teammates however came back to 88-86 but the former Lakers, Pistons and Thunder player could not find the basket.
Visibly exhausted, like his teammates, he was forced to see Poland move away thanks to free throws (94-86) to reach the quarter-finals. It is the first time that the country has returned to the European Top 8 since 1997 and they will face Luka Doncic's Slovenia on Wednesday at 8:30 p.m.
Ukraine

Shots
Bounces
Players
Minimum
2pts
3 points
LF
Off
Def
Early
pd
party
Int
bp
CT
Points
Ivan Tkachenko
21:40
1/2
2/8
2/2
2
0
2
1
3
1
0
1
10
Denys Lukashov
25:41
1/1
0/3
0/0
0
4
4
6
2
0
1
0
2
Sviatoslav Mykhailiuk
32:42
4/6
0/8
4/5
0
8
8
4
3
3
3
0
12
Vyacheslav Bobrov
24:03
1/1
3/6
4/6
1
3
4
1
0
0
0
2
15
Artem Pustovyi
13:36
6/6
0/0
1/1
1
1
2
0
1
0
0
0
13
Alex Len
21:14
2/5
1/3
2/4
1
7
8
1
3
1
1
1
9
Issuf Sanon
21:05
2/5
2/4
3/4
0
1
1
8
3
2
1
0
13
Bogdan Bliznyuk
20:41
2/4
1/2
0/0
1
1
2
3
4
0
3
1
7
Dmytro Skapintsev
Vitaliy Zotov
00:21
0/0
0/0
0/0
0
0
0
0
0
0
0
0
0
Volodymyr Herun
11:28
1/2
0/0
1/1
0
1
1
0
2
1
1
0
3
Ilya Sydorov
07:29
1/2
0/0
0/0
0
0
0
0
1
1
1
0
2
poland

Shots
Bounces
Players
Minimum
2pts
3 points
LF
Off
Def
Early
pd
party
Int
bp
CT
Points
Jaroslaw Zyskowski
15:47
0/1
0/0
0/0
0
3
3
0
1
0
0
0
0
Aleksander Balcerowski
23:35
3/4
2/4
2/2
1
2
3
0
5
0
1
1
14
Michal Sokolowski
31:55
2/5
2/4
3/5
1
4
5
0
2
2
1
0
13
Aaron Cell
25:17
2/3
0/3
0/0
0
3
3
2
2
0
2
0
4
Aj Slaughter
31:16
4/8
4/9
4/4
1
4
5
4
2
2
2
0
24
Mateusz Ponitka
32:29
4/10
2/6
8/10
2
7
9
6
3
3
3
1
22
Lukasz Kolenda
00:03
0/0
0/0
0/0
0
0
0
0
0
0
0
0
0
Aleksander Dziewa
10:28
2/5
0/0
1/1
4
3
7
1
4
0
1
0
5
Dominik Olejniczak
04:52
0/0
0/0
0/0
0
0
0
0
1
0
0
0
0
Michal Michalak
12:47
2/4
0/1
0/0
2
1
3
3
1
0
0
0
4
Jakub Garbacz
08:14
0/0
1/3
3/3
0
0
0
0
0
0
0
0
6
Jakub Schenk
03:17
1/1
0/0
0/0
0
0
0
0
1
0
0
0
2
Photo credit : FIBA