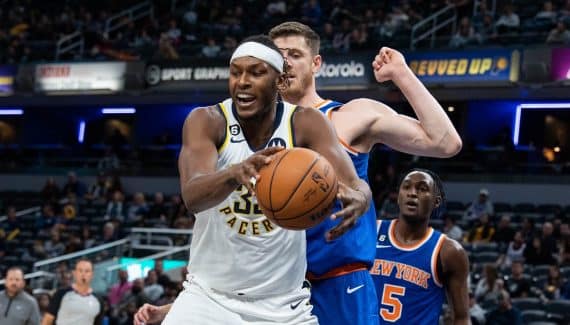 As he played the preseason at the beginning of the month, one would think that Myles Turner did not actually sign a return against Chicago, but simply started his season a little late. When in reality, it was his first regular season game since mid-January!
The pivot had injured his foot and had missed the last 39 matches of last season. The wait was long, especially since Turner would have liked to come back against Philadelphia on Monday. But the Pacers had preferred to play it safe.
In 25 minutes, he did not work miracles, compiling 5 points, 6 rebounds and 4 blocks. "It's hard to come back after a week without playing," concedes Rick Carlisle for the official franchise website. "We expected it to be a little rusty. He brought a real presence, with his counters. He will help us a lot. »
In addition to finding his feelings, Turner will also have to get used to his new teammates. Because the four holders present at his side in the in-between against Chicago – Aaron Nesmith, Tyrese Haliburton, Buddy Hield and Jalen Smith – were not in Indiana when the pivot played its last match, on January 14 against Phoenix.
How does he feel after this defeat? "I haven't played at this level since January. It was going a bit fast and my head was going faster than my body. I'm going to need time to find the rhythm. I worked for this moment, to replay in the NBA. Mentally, I feel fine. »