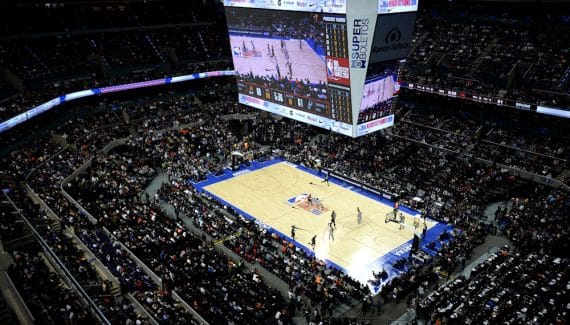 If the NBA plans, after 2024 and the renegotiation of TV rights, to create two new franchises, we know that Seattle and Las Vegas are the cities best placed to win the jackpot. In both cities, everything is in place to welcome a franchise and the enthusiasm is general at the idea that a team will be reborn in Seattle, and that the NBA will finally decide to put down its suitcases in Las Vegas.
But on the other side of the border, on the Mexican side, we don't hear it that way, and the capital Mexico City also believes in its chances. Especially since the NBA often comes there during the regular season, and now there is a G-League team. On Sunday, the Capitanes de Ciudad de Mexico thus began their season with a very large victory (120-84) against the Rio Grande Vipers, and the NBA confirmed that Mexico was one of the tracks considered.
"Travel is not a problem"
"Expansion (of the NBA) is currently not on the agenda, but at some point, if we were to move towards expansion, there is no doubt that Mexico City should be one cities to consider along with a host of other very important and relevant cities in North America," Mark Tatum, Adam Silver's right-hand man, told Andscape. "One of the biggest challenges of international expansion has always been travel and accommodation issues. But there's a world-class facility in Mexico City, Arena CDMX, where we've played games in Mexico, and it's already home to G League team the Capitanes. So that's not a problem. And travel is not a problem. It's a pretty short flight for many of our teams, including those in Texas, Florida and New Orleans. From Arizona, it's actually a pretty short flight. So that's the kind of thing we take into consideration, and for all those reasons, we have to consider it. But, once again, I would say that it is not immediately on the agenda. »
Of course, the "marketing" potential of Mexico City is huge since it is the 6th most populated city in the world with 22 million inhabitants. That's two and a half times more than New York! Andcape adds that a franchise would be that of an entire country, and not just the capital, and that further increases its appeal. Of course, there will be obstacles such as security, altitude or even the attraction for players, some of whom are already reluctant to play in Toronto…
"We've been playing matches in Mexico since 1992. So, and that's 30 years of matches," Tatum said. "Five years ago, Adam and I were in Mexico with our team, including the manager of our activity [Amérique latine]. We talked to some of our partners there, Televisa and other Mexican partners, and they kept asking us, "When can we have an NBA team in Mexico?" ". And that's when we started talking and saying, "Mexico City is the biggest city in North America". People don't realize that. In terms of population, there is no city bigger than Mexico City in North America. And the country has 125, 130 million inhabitants and there is a proximity to the United States. »
"The city has been ready for some time"
As often with the NBA, the G-League serves as a laboratory, and in terms of enthusiasm, it's a real success. American players are sensitive to it. Accustomed to playing in empty halls in the United States, they appreciate the fervor of the Mexican public, and former NBAers like Jahlil Okafor and Alfonzo McKinnie praise the living conditions. There are also Shabazz Napier and Gary Clark, as well as "foreigners" like Bruno Caboclo, Puerto Ricans, Dominicans and even a Venezuelan. All with a choice ambassador, Eduardo Najera, the best known of Mexican players, former glory of the Mavericks.
"I'm here because I want to bring the NBA back to Mexico" he summarizes. "The city has been ready for some time. If you look at the numbers and the fans here in Mexico City alone, that's pretty significant. Done right, an NBA team can transcend an entire [pays]. We are ready. The G League is definitely the first step. We will have to take small steps. If NBA fans in Mexico support this initiative, it will be great to have their elders here. »