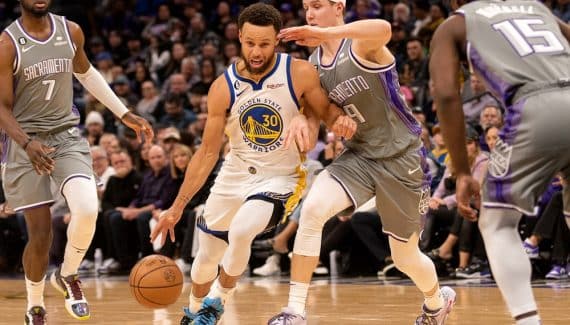 The Kings won a 4th victory in a row tonight, and despite two great injustices, they finally show a balanced record: 6 wins for 6 losses. The Mike Brown method is bearing fruit and this night, after this victory against the Warriors, whom he knows well, he explained why he was proud of his players.
"The first thing is that for the first time, we didn't do a shootaround this morning, and we just had a walk with the guys, and it was new for them. That's when we gave them some information like to "blitz" on Stephen (Curry) and to do double takes when we hadn't done that much this season. Learning it just before the game, and being able to do it, I applaud them for that. »
"I'm proud that we were able to contain their 'runs'"
The defense on Stephen Curry was the key to the Kings' strategy, and he puts a layer on the establishment of a "box-and-one", a box that allows Curry to be isolated, and to place the other four players in the zone.
"Then we did a lot of box-and-one tonight, and I never told my players about it. Not a single second. We talked about it during a time-out and we continued to build on it. Once again, I take my hat off to them because we had never discussed it with them and they were able to apply it. »
And then there is the general level of his team, able to be consistent and stand up to the Warriors for four quarters.
"The other thing is that we were able to win three out of four quarters. It's phenomenal for a team like ours. I still have a hard time believing it, and I also take my hat off to them for that. Finally, in general, we were able to contain their series. We know that a great team like them will continue to hit, over and over, until they hit the punch more powerful than the others that knocks you down And with the shooters they have, their intelligence and their way to discard the game, they can put this shot. We know they can get three 3-pointers in a row, and all of a sudden, we're trailing by six points… So I'm proud that we were able to contain their runs, and that is all the more phenomenal because it was a collective effort. »
Shots
Bounces
Players
GM
Minimum
Shots
3 points
LF
Off
Def
Early
pd
bp
Int
CT
party
Points
De'aaron Fox
10
32.6
55.1
36.5
86.3
0.6
4.6
5.2
5.8
3.2
1.1
0.4
2.9
25.9
Domantas Sabonis
11
31.8
55.3
8.3
71.2
2.3
8.1
10.4
6.1
2.2
1.0
0.5
4.2
17.2
Kevin Hurter
11
31.8
48.8
50.0
72.4
0.1
2.6
2.7
3.1
1.2
1.0
0.5
2.2
16.5
Keegan Murray
10
31.5
44.6
36.1
77.8
0.8
2.9
3.7
1.3
1.7
0.9
0.9
2.4
11.9
Malik Monk
11
21.6
42.3
37.1
90.5
0.5
1.9
2.4
4.3
1.5
0.5
0.4
1.6
11.8
Harrison Barnes
11
32.2
40.7
21.6
81.6
1.3
4.6
5.9
2.0
1.2
0.7
0.2
1.4
11.1
Davion Mitchell
11
19.2
46.4
37.1
66.7
0.0
1.4
1.4
1.8
1.5
0.5
0.0
1.7
7.2
Trey Lyles
9
15.3
40.8
37.8
66.7
0.4
2.3
2.8
1.0
1.1
0.4
0.6
1.2
6.7
Terence Davis
10
12.1
42.9
33.3
85.7
0.4
1.7
2.1
1.2
0.4
0.7
0.2
1.8
6.5
Chimezie Metu
7
11.4
46.2
12.5
83.3
0.3
2.3
2.6
1.1
0.3
0.3
0.1
0.9
4.3
Richaun Holmes
8
12.7
70.0
0.0
66.7
1.0
1.9
2.9
0.0
0.6
0.3
0.1
1.9
4.0
Matt Dellavedova
3
9.5
42.9
66.7
0.0
0.3
0.3
0.7
1.3
0.7
0.3
0.0
1.7
2.7
Kz Okpala
6
6.4
20.0
25.0
0.0
0.3
0.7
1.0
0.3
0.0
0.0
0.0
0.7
0.5
Alex Len
3
2.8
0.0
0.0
50.0
0.0
0.7
0.7
0.0
0.0
0.0
0.0
0.7
0.3
Chima Moneke
1
6.3
0.0
0.0
0.0
2.0
0.0
2.0
1.0
0.0
0.0
0.0
2.0
0.0