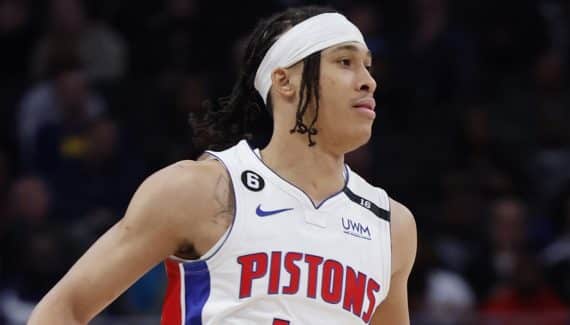 Big loser of the "blockbuster deal" which sent Damian Lillard to the Bucks, Miami has recovered a much more modest game monitor since it is RJ Hampton (22 years old, 1.93m). Even though the Heat currently only have 13 guaranteed contracts, RJ Hampton joins the 2023 finalists with a simple " two-way contract". A choice that makes Jamaree Bouya unhappy, since the Heat cut him to give its "two-way contract".
Drafted by the Bucks who sent him directly to Denver in 2020, RJ Hampton has not yet managed to establish himself in the NBA, and to justify his good rating out of high school. Arriving in March 2021 in Orlando in the exchange that sent Aaron Gordon to the Nuggets, he ultimately stayed less than two years in Florida, finally cut in February 2023. Hired by Detroit immediately, he did not last long neither since it ended up being cut last June. In Miami, he will evolve in another setting which will perhaps allow him to express himself better and gain consistency.
Cheick Diallo in the luggage
There is no doubt that Erik Spoelstra will have an eye on him at the Sioux Falls Skyforce with a view to occasionally integrating RJ Hampton into his first team. Furthermore, RJ Hampton was dominant in the G-League last season during his 9 games played with the Lakeland Magic (24.4 points, 4.4 rebounds, 2.6 assists on average).
In addition, the Heat also announced having cut Caleb Daniels (hired via an "Exhibit 10" contract last August) and the signings of Jon Elmore and Cheick Diallo, without revealing the nature of the agreements. For the Malian pivot in 183 NBA games, it could be an invitation to training camp, even if with Bam Adebayo, Thomas Bryant and Orlando Robinson, Miami seems armed at position 5. Before going into exile in the Japanese and Puerto Rican championships, Cheick Diallo also saw his last adventure in the NBA stop at the Pistons, in 2021-2022.
Two-way contract : Designed to create a new bridge between the NBA and the G-League, this type of contract allows each team to secure the services of two or three additional players, to develop them mainly in their affiliated development league franchise but also up to 50 matches in the NBA.