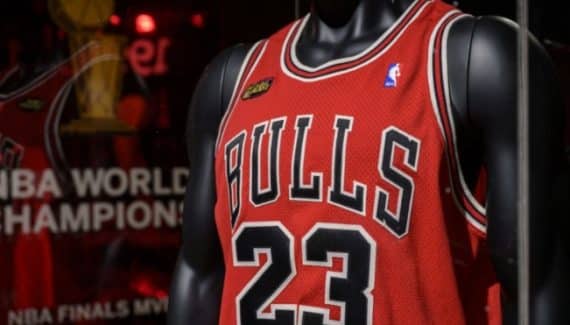 Almost twenty years after his (last) retirement from the prosecution, the legend of Michael Jordan keep writing. His popularity, or rather the madness that has accompanied him throughout his career, has taken on a new dimension since yesterday when one of his jerseys was sold at auction for 10.1 million dollars, a record sum for an article " jock " !
This is the Bulls jersey (red) worn by Michael Jordan in Game 1 of the 1998 NBA Finals, the year Michael Jordan last won. The year of "The Last Dance". Ironically, this match ended in a defeat for Chicago!
As for the auction, the news was made official by Sotheby's, a reference in the field. The latter specified that the jersey had been the subject of twenty offers which made it possible to raise the prices and to double its price, all the same estimated at 5 million dollars.
"This historic jersey was worn during what is arguably the most famous season in Jordan's storied career, when the superstar cemented his legacy as the greatest basketball player of all time.", Sotheby's said in a statement.
In front of Diego Maradona
Interest in this jersey was increased tenfold by the docu-series "The Last Dance" which took as an angle this 1998 season to trace the career of Michael Jordan in Chicago.
To understand the scope of this auction, it is necessary to look at the previous records in this area exhibited by Sotheby's. The highest-selling Michael Jordan 'souvenir' item at auction so far was a card also from the 1997/98 season, featuring the player's autograph, which sold for $2.7 million.
Before this sale, the most expensive basketball jersey was a 1996/97 season Kobe Bryant jersey, also signed by the player, which went up to 3.7 million dollars. All sports combined, it was Diego Maradona's "Hand of God" jersey, worn during the quarter-final of the 1986 World Cup, which held the record since that year, with a bid that had risen to $9.3 million! Until yesterday…