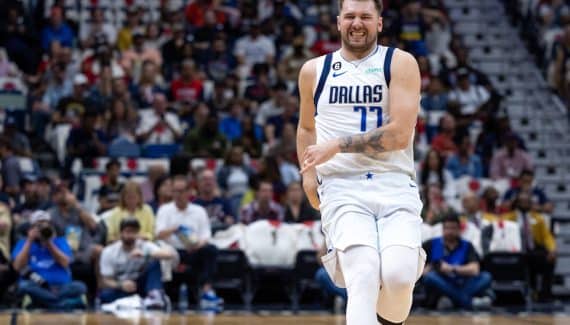 Kevin Durant isn't the only 'famous injury' of the night as the Mavericks lost Luka Doncic. By dint of pulling too much on the rope, she ended up giving in, and in this case, it was a pain in the left thigh that forced her to leave the meeting against the Pelicans.
It has been several matches that the Slovenian has not been at his best, and that we sometimes saw him walking, and even limping. In this meeting, the staff had even strapped him. But the problem is that he aggravated his injury!
"It doesn't smell good" he admitted at a press conference. "I think I did that to myself in the second game after the All-Star Game. Something like that… "
In fact, it was when he woke up, after a big victory against Spurs, that Luka Doncic felt a spike in his thigh. " Usually it's after a hit, but I don't think I've ever felt that. This time I didn't take a hit, so that's kind of weird for me. I don't really know what it is. »
Did Dallas shoot his player too much?
He will know this Thursday since the staff has scheduled an MRI, and we will know if this lesion is really worrying. On the Dallas side, we hope it's just an alert and that rest will be enough.
"I think we all saw that he was moving badly" confirms Jason Kidd. "Whether it's shooting or defending, it impacts everything. He tried to make do with it to help his teammates, but he had to leave the field. We hope it's not serious. We have a few days ahead of us before playing Memphis, and we hope he will be back soon. »
The error of the Mavericks, it is perhaps to have made him play this night vis-a-vis the Pelicans. It was a "back-to-back", and Luka Doncic was already complaining about the thigh… Besides, it was his first "back-to-back" for three months, and there was a reason why. he had been exempt since early December.
Luka Doncic
Percentage
Bounces
Season
Crew
GM
Minimum
Shots
3 points
LF
Off
Def
Early
pd
party
Int
bp
CT
Points
2018-19
DAL
72
32
42.7
32.7
71.3
1.2
6.6
7.8
6.0
1.9
1.1
3.4
0.4
21.2
2019-20
DAL
61
34
46.3
31.6
75.8
1.3
8.1
9.4
8.8
2.5
1.0
4.3
0.2
28.8
2020-21
DAL
66
34
47.9
35.0
73.0
0.8
7.2
8.0
8.6
2.3
1.0
4.3
0.6
27.7
2021-22
DAL
65
35
45.7
35.3
74.4
0.9
8.3
9.1
8.7
2.2
1.2
4.5
0.6
28.4
2022-23
DAL
56
36
50.3
35.0
73.6
0.9
7.9
8.7
8.0
2.6
1.5
3.7
0.5
33.3
Total
320
34
46.6
33.9
73.7
1.0
7.6
8.6
8.0
2.3
1.1
4.0
0.4
27.6