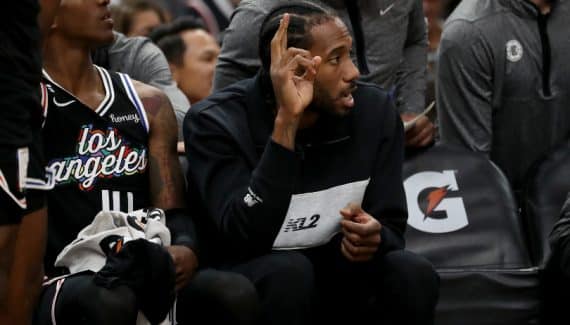 After 12 games away, Kawhi Leonard finally returned to the field last night against the Pistons. Logically rusty (6 points at 2/8, 5 rebounds, 4 assists but +26 +/-), like his team, he did not want to dwell on the reasons which led him to stay in the infirmary these last weeks.
But for him, it's just the recovery process, after his cruciate ligament rupture in June 2021.
"It was recovery, to be ready" he just explained. "I'm not going to explain it because I'm not a doctor, and no one here is. So I was just getting ready to get back on the court. »
Subject to a playing time limit, Kawhi Leonard has at least one certainty: he will start. Tyronn Lue thus wants to use him in the major five and no longer bring him out of the bench.
"I'm just trying to remind him that he's Kawhi Leonard. That he is special. He is one of the best players of all time and we have absolute faith in him."
"As I said at the start of the season, it's going to be a long journey"Kawhi Leonard, 31, says of his return to his best. "Recovering from a ruptured cruciate ligament doesn't happen in a year. Everyone thinks that, but it's a two-year process. I know it and I will continue the work. »
Because there are both for Kawhi Leonard (whose series of games at +10 points stopped at 177) to find his best level, but also for Paul George and company to find their automatisms at his side.
But for Reggie Jackson, Kawhi Leonard remains Kawhi Leonard, even if he is not 100%.
"I'm just trying to remind him he's Kawhi Leonard"explains the leader. "That he is special. He's one of the best players of all time and we have absolute faith in him no matter what. Never mind his stat line. I don't care if he made his shots. I don't care if he lost the ball. He is who he is for a reason, and we're going to build on him in the fourth quarter. »
Kawhi Leonard
Percentage
Bounces
Season
Crew
GM
Minimum
Shots
3 points
LF
Off
Def
Early
pd
party
Int
bp
CT
Points
2011-12
SAN
64
24
49.3
37.6
77.3
1.6
3.5
5.1
1.1
1.4
1.3
0.7
0.4
7.9
2012-13
SAN
58
31
49.4
37.4
82.5
1.1
4.9
6.0
1.6
1.7
1.7
1.1
0.6
11.9
2013-14
SAN
66
29
52.2
37.9
80.2
1.2
5.1
6.2
2.0
1.9
1.7
1.2
0.8
12.8
2014-15
SAN
64
32
47.9
34.9
80.2
1.3
5.9
7.2
2.5
2.0
2.3
1.5
0.8
16.5
2015-16
SAN
72
33
50.6
44.3
87.4
1.3
5.5
6.9
2.6
1.9
1.8
1.5
1.0
21.2
2016-17
SAN
74
33
48.5
38.0
88.0
1.1
4.7
5.8
3.5
1.7
1.8
2.1
0.7
25.5
2017-18
SAN
9
23
46.8
31.4
81.6
0.7
4.0
4.7
2.3
1.0
2.0
1.8
1.0
16.2
2018-19
TOR
60
34
49.6
37.1
85.4
1.3
6.0
7.3
3.3
1.5
1.8
2.0
0.4
26.6
2019-20
LAKE
57
32
47.0
37.8
88.6
1.0
6.1
7.1
4.9
2.0
1.8
2.6
0.6
27.1
2020-21
LAKE
52
34
51.2
39.8
88.5
1.1
5.4
6.5
5.2
1.6
1.6
2.0
0.4
24.9
2022-23
LAKE
2
21
44.4
16.7
88.9
2.0
4.5
6.5
2.0
2.5
1.5
2.0
0.0
12.5
Total
578
31
49.3
38.4
85.8
1.2
5.2
6.4
2.9
1.7
1.8
1.6
0.6
19.2