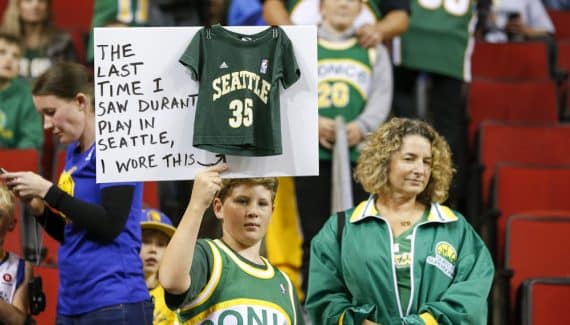 Kawhi Leonard, Paul George, Damian Lillard, Gary Payton II… They will all be in Seattle this evening in the former Key Arena, now the Climate Pledge Arena, for this opposition between the Clippers and the Blazers. It will be sold out, and Shawn Kemp will be there to remind everyone that the city deserves the return of the Sonics. Even though the NBA has chilled the latest rumors, he believes in it and he won't give up.
" We won't stop the process until we get the Sonics back."he warned in The Athletic. " We want the Sonics back, because the people in this community deserve it. I have observed the transformation on this community. I actually owned a business in that area when they left years ago. I then saw the damage it did to the community, and it was terrible. What I mean is it was sad, you know? You had people who had worked in this room for 40 years who lost their jobs. »
The departure of the Sonics dates from 2008, and it may still be necessary to wait five or ten years for the NBA to create new teams. Which means that young audiences will never have known the Sonics. It's like starting from scratch but that doesn't scare Shawn Kemp.
The example to follow: the Clippers
" The only thing I can tell you is that to bring the team back, we all have to be patient." continues Shawn Kemp. " We have to be ready to defend this team when they come back. For now, we just have to be patient and let the details work out. I believe we will have the opportunity to bring the team back. But once the team is back, our support for this team will have to be amazing. »
As an element of comparison, he takes the example of the Clippers who were just passing through the city, and whose popularity grew after the takeover of Steve Ballmer, former boss of Microsoft… in Seattle.
" You have to do like the Los Angeles Clippers, who have developed over the last 10, 15 years. There was a time when the Clippers weren't very popular. Today, if you look at the Clippers, their audience is incredible. They're almost as followed as the Lakers are today, if you ask me. So that's the type of supporters we're going to need here in Seattle. The same as the Clippers Nation. »