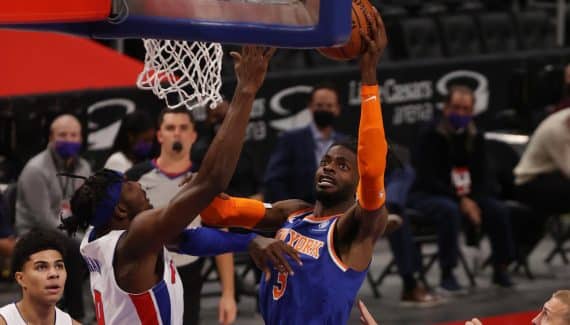 For more than a year, Nerlens Noel and Rich Paul are at the center of a court case. Each attacked the other: Rich Paul demanded a commission of 200,000 dollars when Nerlens Noel hoped to obtain damages, for having been badly advised.
The pivot thus estimated that Rich Paul and his agency Klutch Sports had deprived him of 58 million dollars, having advised him to refuse a contract of 70 million dollars with the Mavericks.
A Dallas judge delivered a verdict and it is not in favor of the Detroit player. She believes that this matter should be settled by the players' union (NBPA) since it concerns the relationship between a player and an agent.
It is therefore with arbitration that this dispute between the former New York player and LeBron James' agent will be resolved. The NBPA will bring in an expert in labor and sports law and, unlike a court case, the proceedings will take place in a private setting.
Nerlens Noel
Percentage
Bounces
Season
Crew
GM
Minimum
Shots
3 points
LF
Off
Def
Early
pd
party
Int
bp
CT
Points
2014-15
PHL
75
31
46.2
0.0
60.9
2.5
5.7
8.2
1.7
2.8
1.8
2.0
1.9
9.9
2015-16
PHL
67
29
52.1
50.0
59.0
2.3
5.8
8.1
1.8
2.9
1.8
2.4
1.5
11.2
2016-17*
All Teams
51
21
59.5
0.0
69.4
1.8
3.9
5.8
1.0
2.5
1.3
1.0
1.0
8.7
2016-17*
PHL
29
20
61.1
0.0
68.3
1.6
3.4
5.0
1.0
2.5
1.5
1.0
0.9
8.9
2016-17*
LAD
22
22
57.5
0.0
70.8
2.1
4.7
6.8
0.9
2.5
1.0
1.0
1.1
8.6
2017-18
LAD
30
16
52.4
0.0
75.0
1.6
4.0
5.6
0.7
2.0
1.0
0.9
0.7
4.4
2018-19
OKAY
77
14
58.7
0.0
68.4
1.7
2.6
4.2
0.6
2.2
0.9
0.6
1.3
4.9
2019-20
OKAY
61
19
68.4
33.3
75.5
1.5
3.4
4.9
0.9
2.7
1.0
1.1
1.5
7.4
2020-21
NYK
64
24
61.4
0.0
71.4
2.2
4.2
6.4
0.7
2.8
1.1
1.0
2.2
5.1
2021-22
NYK
25
23
53.3
0.0
70.0
1.9
3.7
5.6
0.9
2.7
1.2
0.8
1.2
3.4
Total
450
22
54.9
15.4
65.5
2.0
4.2
6.2
1.1
2.6
1.3
1.3
1.5
7.3