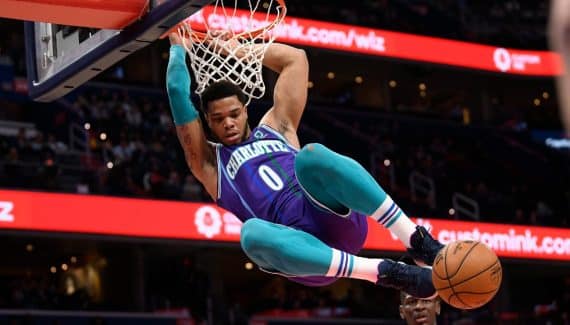 While he left to receive a very large check last summer, Miles Bridges was arrested just before the "free agency" for acts of domestic violence on his ex-girlfriend, in front of their children.
Extremely serious facts, and the Hornets winger therefore spent the year in the courts, rather than on NBA grounds.
And even if he had negotiated his sentence in November, via a non-contest agreement (by which he does not appeal the sanctions, without admitting his guilt), Miles Bridges was never reinstated in the workforce of Steve Clifford , the Hornets keeping hold of his rights while never offering him a new contract…
Perhaps the club was waiting to know the sanction of the NBA, and it has just fallen.
In a statement, the NBA explains that it conducted its own investigation, "by reviewing all available documents and interviewing numerous witnesses, as well as the parties". The league says it also has "consulted with a group of domestic violence experts who provide the league with advice in such cases. »
As a result, the league has decided to suspend Miles Bridges for 30 games, without pay, taking into account "the conduct and its outcome, as well as the outcome of the trial, as well as other factors. »
The NBA, however, specifies that it considers that since the 25-year-old winger has not signed a contract this season, missing the 82 games, he has already served 20 games of suspension. Clearly, if Miles Bridges is signed by a team this summer, Charlotte or otherwise, he will only miss the first 10 games of the next campaign.