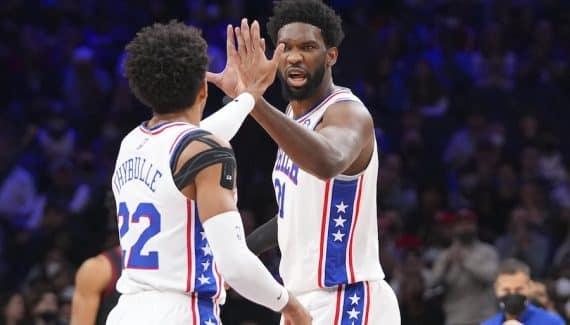 The kick-off is not given only Matisse Thybulle already trying to sting the leather from the hands of Tyrese Maxey. Last night's Sixers-Blazers marked the return of the former Philadelphia player, sent to Portland last February. Losing reunion on the floor and mixed outside, especially with Joel Embiid.
" I loved him when he was here. I told him that I was not very happy with some comments that have been made lately, but that's the way it is », delivers 76ers center.
The comments to which the latter refers were made by his former teammate, before the meeting, for the Philadelphia Inquirer. Matisse Thybulle notably expresses his frustration at not having been used more by Doc Rivers.
" It's difficult when you're part of such a talented team that needs to win so badly now. For some reason, I wasn't rated, or whatever you call it, in the rotation. Didn't really feel like I got the chance to show off ", Regrets the back, whose average playing time had dropped this season to 12 minutes with the 76ers. His worst in career.
Since arriving in Portland, he has been a full-time starter and posted his career-best point average (7.5), as well as a 3-point address record (41%). " Now I feel like I have every chance in the world. The opportunity is there and it will continue. I'm just getting encouragement to enjoy it ", displays the teammate of Damian Lillard, author of a small exit to 5 points (2/4) this night.
The game was more fear-based
For Matisse Thybulle, whose speech is very similar to that of Cam Reddish, the evolution of his situation would be emblematic of the atmosphere established within the 76ers. " Any player who evolves from a sense of fear will struggle. There will be friction in everything you try to do. But when you play with discipline and being receptive to what the game has to offer, the opportunities are much greater. Personally I feel like in Philadelphia the game was more fear based than what I do here in Portland ", Compares the 26-year-old player.
In response, Joel Embiid agrees that " playing in Philly is not easy. There is a lot of pressure. Every year you are expected to win. It doesn't matter if they think you have a good team or a team good enough to win the title. That's what is expected of you and that's why few people can play and survive here. »
A level of requirement directly linked to the presence of the pivot, around which the entire 76ers project, from the famous "Process" until today, has been built. We can make the same observation with the Blazers, who have been betting for a decade on Damian Lillard to reach the heights. But Philadelphia has been several notches ahead of Portland for a few years now.
" Some guys have different mindsets. For some it's about winning, and for others it's just about playing basketball ", continues Joel Embiid, indirectly targeting Matisse Thybulle, before adding: " But like I said, he was great when he was here. I wish him good luck. I still believe he has a lot of potential and all it takes, with the work done especially on his shooting and defense, he's a monster. »
Matisse Thybulle
Percentage
Bounces
Season
Crew
GM
Minimum
Shots
3 points
LF
Off
Def
Early
pd
party
Int
bp
CT
Points
2019-20
PHL
65
20
42.3
35.7
61.0
0.7
1.0
1.7
1.2
2.2
1.5
0.8
0.7
4.7
2020-21
PHL
65
20
42.0
30.1
44.4
0.5
1.5
1.9
1.0
2.0
1.6
0.5
1.1
3.9
2021-22
PHL
66
26
50.0
31.3
79.1
0.6
1.7
2.3
1.1
2.4
1.7
0.6
1.1
5.7
2022-23 *
All Teams
59
15
43.3
36.4
71.4
0.6
1.2
1.8
0.7
1.6
1.1
0.2
0.4
3.5
2022-23 *
PHL
49
12
43.1
33.3
75.0
0.4
0.9
1.3
0.5
1.3
0.9
0.2
0.3
2.7
2022-23 *
ORP
10
30
43.8
40.9
50.0
1.5
2.7
4.2
1.8
2.8
1.8
0.6
1.1
7.5
Total
255
20
44.7
33.2
66.4
0.6
1.3
1.9
1.0
2.0
1.5
0.5
0.8
4.5