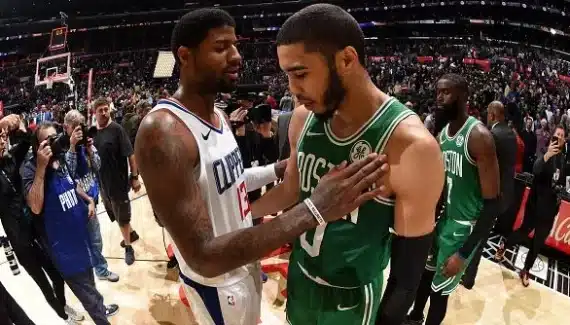 As for Damian Lillard, it's a little weird to say it, but Paul George is now a veteran. At 32, the winger has seen a lot of things, from his early years in Indiana where he rubbed shoulders with Miami's "Three Amigos" tirelessly, to his exile by OKC to end up returning home, in Los Angeles, not to mention his serious shin injury in 2014. So many steps that have contributed to making him the player he is today.
With hindsight and his experience, Paul George now appreciates seeing the younger generation take control. His podcast was an opportunity for him to name some of his favorite young stars under 25.
"I love watching LaMelo (Ball), because he's one of those players that you see magic in every time he's on the court. There is nothing he does that is basic. You never know what to expect when you see him on the pitch. He is clearly special", did he declare.
Impressed by Jordan Poole's progress
PG also named Jalen Green and Paolo Banchero among young players with a bright future. Rather than quoting Anthony Edwards, who already has everything of a superstar, he also put forward another Minnesota player, less known, but who deserves to be more in his eyes: Jaden McDaniels.
"He's a player that everyone may not have in their sights. But he has a great profile. He's a great defender, he has good feet and sharp hands."he pointed out.
As for the player who surprised him the most in his progression during his young career, Paul George admitted that he did not see the hatching of Jordan Poole coming.
"Golden State scouting is something. Kuminga is a monster. It will be very good. And Jordan Poole is already particular. I have to congratulate Jordan Poole because I didn't have the vision of his progression between his first and second year. I hope he doesn't mind, but if you had asked me, after seeing him play the first year, if he was going to be a good player, I would have said that I didn't think so. Really. But on the other hand, I guess you have no choice but to learn, to be a sponge and to progress when you play alongside Stephen Curry, Klay Thompson. And so when I saw him in second year, I was like, "Wow." Really, I said to myself: "But there are three of them now! ". I was impressed. It's a star ! ".
Jayson Tatum ready to take over
Finally, Paul George returned to the player he saw finishing MVP this season at the start of the year: Jayson Tatum. Even if the latter has officially turned 25 since March 3, PG remains a fan of his game, for the simple reason that the Celtics star seems to have been inspired by Paul George growing up, the two players being all two Kobe Bryant fans.
For Paul George, seeing such a player take up the torch is bound to be gratifying.
"It's great to see the influence my game has had on his. Because when I look at him closely, and I analyze his dribbling cadence, his step-backs, his rhythm, I see a lot of me in him. It's great to see. That's what you want to see when you get older, to see young people take what you brought to the game and take it further, for the next one, the one that comes after it. That's what I see in Jayson Tatum's game. He takes it all to another level. He's so explosive, so strong. He is already much stronger than me at his age. I love watching him play. It's like watching a young version of me, the way he moves, his ways on the court, his whole way, the way he handles the ball… I see myself in all that stuff. It's great to see it from afar. He's one of my favorite young players in the league."
Paul George
Percentage
Bounces
Season
Crew
GM
Minimum
Shots
3 points
LF
Off
Def
Early
pd
party
Int
bp
CT
Points
2010-11
IND
61
21
45.3
29.7
76.2
0.6
3.1
3.7
1.1
2.1
1.0
1.2
0.4
7.8
2011-12
IND
66
30
44.0
38.5
80.2
0.9
4.8
5.6
2.4
2.9
1.6
1.8
0.6
12.1
2012-13
IND
79
38
41.9
36.2
80.7
1.1
6.5
7.6
4.1
2.9
1.8
3.0
0.7
17.4
2013-14
IND
80
36
42.4
36.4
86.4
0.8
6.0
6.8
3.5
2.5
1.9
2.8
0.3
21.7
2014-15
IND
6
15
36.7
40.9
72.7
0.7
3.0
3.7
1.0
1.8
0.8
2.0
0.2
8.8
2015-16
IND
81
35
41.8
37.2
86.0
1.0
6.0
7.0
4.1
2.8
1.9
3.3
0.4
23.1
2016-17
IND
75
36
46.2
39.4
89.8
0.8
5.8
6.6
3.4
2.8
1.6
2.9
0.4
23.7
2017-18
OKAY
79
37
43.0
40.1
82.2
0.9
4.8
5.7
3.3
3.0
2.0
2.7
0.5
22.0
2018-19
OKAY
77
37
43.8
38.6
83.9
1.4
6.8
8.2
4.1
2.8
2.2
2.7
0.4
28.0
2019-20
LAKE
48
30
43.9
41.2
87.6
0.5
5.2
5.7
3.9
2.4
1.4
2.6
0.4
21.5
2020-21
LAKE
54
34
46.7
41.1
86.8
0.8
5.8
6.7
5.2
2.4
1.2
3.3
0.4
23.3
2021-22
LAKE
31
35
42.1
35.4
85.8
0.4
6.5
6.9
5.7
2.4
2.2
4.1
0.4
24.3
2022-23
LAKE
53
35
45.7
37.5
87.7
0.8
5.3
6.1
5.3
2.8
1.4
3.1
0.3
23.7
Total
790
34
43.7
38.2
85.0
0.9
5.5
6.4
3.7
2.7
1.7
2.7
0.4
20.6