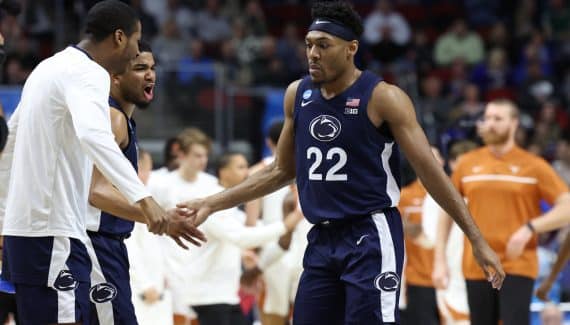 After unearthing Christian Braun a year ago, have the Nuggets had their noses again in the 2023 Draft? This season, with the 29th pick, they opted for Julian Strawther, from Gonzaga, then for Jalen Pickett, a guard from Penn State. The latter has the distinction of having played five years in the NCAA, at Siena then Penn State. On the evening of the first day of the regular season, he will be 24 years old!
He's an "old" rookie, older, for example, than Anthony Edwards or Tyrese Maxey, or even Zion Williamson! "He has this maturity for the NBA, and that's what allows you to be comfortable with the idea of ​​him being on an NBA floor" explains Jim Clibanoff, vice president of the Nuggets and head of scouting. "Jalen Pickett is an adult when he's on the field. It is fully developed. He is sufficiently aware of what he is and self-awareness is a very important factor in the whole process. »
Less room for progress but easier to manage
In summer league, Pickett did not disappoint with 12.4 points, 4.4 rebounds, and 5.6 assists on average. All at 53% on shots, including 43% at 3-points. He's a complete back, very good on the pick-and-roll, and not the type to try crazy things.
"He's very, very confident. He is very methodical because he knows his limits, and he is always able to make his strengths outweigh his weaknesses." continues the Denver leader. "His progression curve will be much easier to digest, which will allow us to be more comfortable putting him on the field. »
For the person concerned, his integration will be easier when he has adapted to the rhythm of the NBA. Not just the schedule, but also the pace of the game and the move to 24 seconds. "The time is shorter" Pickett points out Nuggets.com. "People are evolving at a better pace. And then a lot of guys start out really fast and then slow down. So it's about getting used to that pace and trying to figure out what I can do in those spots."
Adapt to the rhythm
In addition to video work, this notion of rhythm is what he talks about most with his teammates. "Rhythm is the thing that has been emphasized since I arrived here this summer. It's about getting into things faster, reading the game faster, and things like that. This is going to be very important to me."
Especially since he arrives with the NBA champions, and he will therefore have double pressure since they will be in the position of the hunted. But excitement takes precedence over stress. "I'm looking forward to playing with the reigning champions, going to different venues and being able to compete against the best players in the world. »