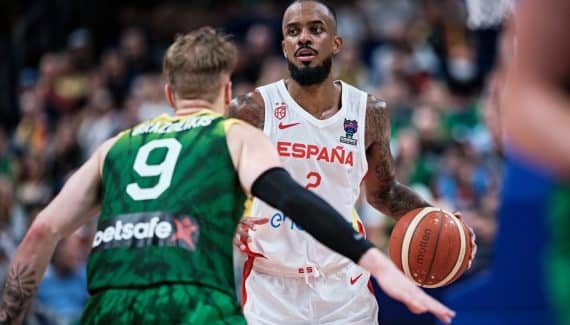 " I don't know what this team would have looked like without Lorenzo Brown because he was recruited this summer. But it's like that. "According to Mindaugas Kuzminskas, this round of 16 of the Euro Spain – Lithuania would undoubtedly have taken another turn without the American, whose express naturalization caused a stir.
It's hard not to agree with the Lithuanian top scorer (18 points) in this game, finally won in overtime by the Spaniards (102-94), after a huge fight. A match that clearly seemed to lean in favor of Lithuania, in the lead for most of the time. Four minutes from time, the Baltic nation, which did not shine in the "money time" of this competition, still had a 7-point lead.
It was without counting on the demonstration to come from the leader opposite, author of only 5 points in the first period. Stuffed with balloons by his teammates, the former Raptors multiplied the circle attacks and displayed his good understanding with Usman Garuba, another strong man at the end of the game (8 points and 8 rebounds), on "pick-and-roll" .
Less comfortable behind the arc, he nevertheless planted a "stepback" at the head of the racket from 3-pointers, against Domantas Sabonis, to give his team a three-possession lead two minutes from the end of the extension.
"It's an incredible feeling to have this brotherhood, 'la familia' as they call it. It really is a family"
" He always had a desire to be a team player, one who makes others better, who joins a team with history and tradition and wants to do things the right way. It was his match and his teammates followed and encouraged him ", greets Sergio Scariolo, whose new element has signed 28 points (9/20 on shots, including 2/7 from afar, 8/8 on throws), 8 rebounds and 3 assists in 33 minutes. He has so far only averaged 11 points.
The MVP of the evening believes that he and his teammates simply followed the coach's game plan. And then " there were big shots from Rudy (Fernandez – 13 points). I am happy to be in a great team like this. It is a privilege. It's great to have guys behind you. As a newcomer, I felt like I was with my brothers. Last year in Kazan (Russian club), I had probably never felt such a collective unity. I feel the same here, even though I haven't been here long."
Despite the language barrier, Lorenzo Brown describes a good integration within his new selection.
" They've known each other for so long and they let me in as one of their own. It's an incredible feeling to have this brotherhood, 'la familia' as they call it. It really is a family. I come here, I'm a regular American and these guys speak in Spanish. And I learn every day ", continues the 32-year-old player: " Outside noise doesn't bother me at all. I only care what these guys want from me."