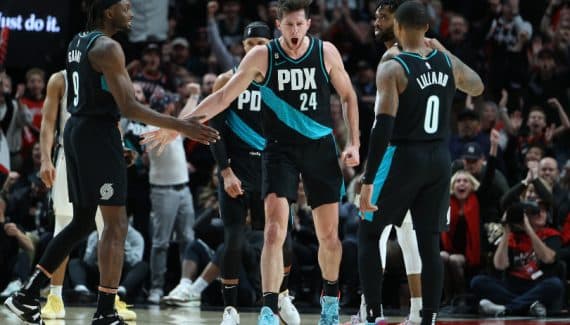 Moved from San Antonio to Portland during the past season, Drew Eubanks took full advantage of this return home. Growing up in Troutdale, a suburb of Portland, he happily rediscovered the state of his youth, including 14 points and 8 rebounds in the Blazers' coasting season last year.
Having become a substitute again this season, as Jusuf Nurkic's official understudy, he does more than act as interim. Sometimes favored over Jusuf Nurkic due to his lighter and faster profile, Drew Eubanks also brings his rough and tough game to harm. Characteristics that he has carried around since his debut with the orange ball.
"He has a mean side to him that I love"smiles Chauncey Billups in The Athletic. "He finds himself in a scuffle almost every game. He's one of those guys you hate to play against but simply because he always plays hard. »
"I'm not going to let myself be heckled either. [en NBA] »
Rather predestined to go pro in baseball, with a timed throw at 140 km / h in particular, Drew Eubanks changed sports from high school. This is where his "wicked" side comes from. Because, at the time, he was more of a giraffe than an ox…
"When I started playing, I was pushed around by everyone. So I was swinging my elbows around trying to hit someone. I wanted to burst them! », recalls Drew Eubanks. " And then, when I started to progress, I always kept this kind of mean mentality: 'You don't touch me'. I didn't like being heckled back then. I didn't like being heckled in college. And I won't let myself be heckled either [en NBA]. »
At 2m08 for 111kg, Drew Eubanks now has the typical physique of the NBA interior, capable of setting authoritarian screens and jostling to fight for rebounds. Plus a great dexterity to get finishes that are not necessarily obvious at the alley-oop.
"I try to stay as balanced as possible. I know that we are well ranked but I try to play as if we were at the very bottom of the Conf 'Ouest. To play hard on every possession, not to let go. To win in this league, sometimes you have to be perfect. And lately, we've had too many ups and downs. I think our focus needs to be even higher. »
Drew Eubanks
Percentage
Bounces
Season
Crew
GM
Minimum
Shots
3 points
LF
Off
Def
Early
pd
party
Int
bp
CT
Points
2018-19
SAN
23
5
57.7
0.0
84.6
0.3
1.2
1.5
0.3
0.5
0.1
0.4
0.2
1.8
2019-20
SAN
22
12
64.2
100.0
76.9
1.3
2.6
3.9
0.7
1.7
0.2
1.0
0.8
4.9
2020-21
SAN
54
14
56.6
100.0
72.6
1.4
3.1
4.5
0.8
1.6
0.3
0.8
0.9
5.8
2021-22 *
All Teams
71
18
59.6
21.7
76.2
1.8
3.6
5.4
1.2
1.7
0.4
1.1
0.6
7.7
2021-22 *
SAN
49
12
52.8
12.5
74.7
1.3
2.7
4.0
1.0
1.2
0.3
0.9
0.6
4.7
2021-22 *
ORP
22
30
64.6
26.7
78.4
3.0
5.5
8.5
1.6
2.8
0.8
1.6
0.5
14.5
2022-23
ORP
16
19
71.4
0.0
69.6
1.6
2.7
4.3
0.8
2.0
0.5
0.9
0.9
6.0
Total
186
14
60.0
30.8
74.8
1.4
2.9
4.4
0.9
1.6
0.3
0.9
0.7
5.9