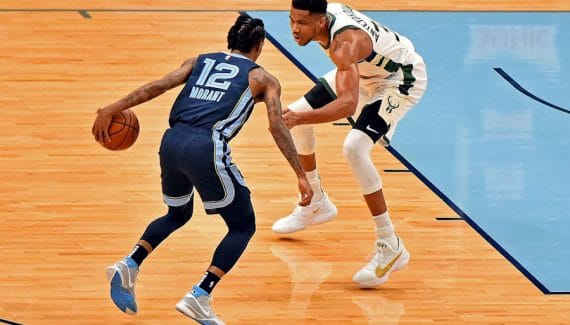 Double MVP, NBA champion and MVP of the Finals, Giannis Antetokounmpo is now part of the NBA executives, and Sunday evening, he will celebrate his sixth selection at only 27 years old. By his side, in Team Lebron, three newcomers with Darius Garland, Jarrett Allen and Fred VanVleet. Opposite, in Team Durant, four new stars with Dejounte Murray, LaMelo Ball, Andrew Wiggins and Ja Morant. The Grizzlies point guard has lifted his young team to 3rd place in the Western Conference, and the "Greek Freak" is very impressed.
"He is improving year after year, and he is having an incredible season" confides the strong winger of the Bucks. "It's crazy…and I know he's a very modest kid. I know he gives it his all…and why wouldn't he win a title with Memphis? A lot of people think that's not possible, and it's something he really should think about. Personally, it motivates me even more when people think that you have to go to a big market to win a title, that you have to join this guy to win a title, or that you have to do this or that to be at the top , although this is not necessarily true. We just have to do what makes us happy. "
Clearly, Giannis Antetokounmpo recognizes himself in the early career of Ja Morant, leader of a franchise in a small market, and who does not necessarily seem to attract glitter. For the moment.
"I think he's happy where he is now. He has an incredible team. They have a great identity, a great coach (note: Taylor Jenkins was an assistant at the Bucks). Their potential is limitless, but in the end, he must do what makes him happy. If staying in Memphis for 15, 20 years trying to win a title makes him happy, let him do it. If leaving makes him happy, he should too. I have a feeling his story is amazing, and he's going to be really good. "
Ja Morant
Percentage
Bounces
Season
Team
GM
Minimum
Shots
3 points
LF
Off
Def
Early
pd
party
Int
bp
CT
Points
2019-20
SAME
67
31
47.7
33.5
77.6
0.8
3.1
3.9
7.3
1.6
0.9
3.3
0.3
17.8
2020-21
SAME
63
33
44.9
30.3
72.8
0.9
3.1
4.0
7.4
1.4
0.9
3.2
0.2
19.1
2021-22
SAME
46
33
49.5
33.0
75.5
1.4
4.5
5.9
6.9
1.5
1.2
3.4
0.4
26.8
Total
176
32
47.3
32.1
75.2
1.0
3.5
4.4
7.2
1.5
1.0
3.3
0.3
20.6