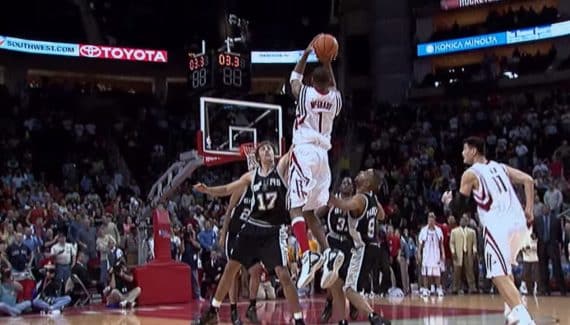 First, let's go back to the context of this meeting.
During summer, Tracy McGrady, the league's two-time leading scorer, left Orlando for Houston in exchange for Steve Francis. Objective: to form with Yao Ming the most powerful duo in the league, and succeed the Shaq-Kobe tandem destroyed that same summer with the departure of Shaquille O'Neal. But Tim Duncan and the Spurs are also aiming for the title.
A failed start to the season
This context fuels the rivalry between the two Texan cities. However, the start of the Rockets season was sluggish, like a loss against Dallas despite a huge game from T-Mac with 48 points, 9 rebounds and 9 assists.
This December 9, the Rockets show a record of 8 wins for 11 defeats but they remain on two consecutive victories. Opposite, the Spurs are full of confidence with an excellent record of 16 successes in 19 games. And the match will very quickly confirm the tendencies of the two teams. Despite a very good start to the game from Houston, San Antonio was led by a huge Tim Duncan (26 points, 18 rebounds and 7 blocks) and made the difference in the third quarter, in a very defensive game.
Houston trails by 10 points with 55 seconds left
San Antonio still leads by 10 points with 55 seconds remaining (74-64). Spectators and Rockets fans begin to leave the room. The gap is reduced to -6 on a tap dunk from Yao Ming then a dunk from Scott Padgett. On the bench, Gregg Popovich puts a blower on Manu Ginobili (yes, it's already him, with hair).
After Devin Brown's free throws, the Rockets are still at -8 and only 35 seconds remain. That's when T-Mac comes along and does the impossible. He scored three 3-point baskets, one with Tim Duncan's fault. During this deluge, Spurs were unable to react defensively even though they had the best outside defender in the league in the person of Bruce Bowen.
The peak of Tracy McGrady's career?
There are then 11 seconds left and the Spurs are ahead 80-78. On touch, the ball arrives at Devin Brown, he drives but falls. T-Mac recovers the leather, goes up the field and shoots 3-pointers against two Spurs! The basket goes in, and Tracy McGrady exults. Tony Parker has the opportunity to answer him but his desperate shot fails.
The Rockets won the game 81-80 after trailing by 10 points with 50 seconds remaining. Tracy McGrady achieves an almost unique feat in history with 13 points in 35 seconds. The US media keep comparing this performance to that of Reggie Miller in 1995 against the New York Knicks with 8 points in 9 seconds.
This performance remains the greatest comeback in Rockets history and the pinnacle of Tracy McGrady's career.
Article originally published on December 9, 2017