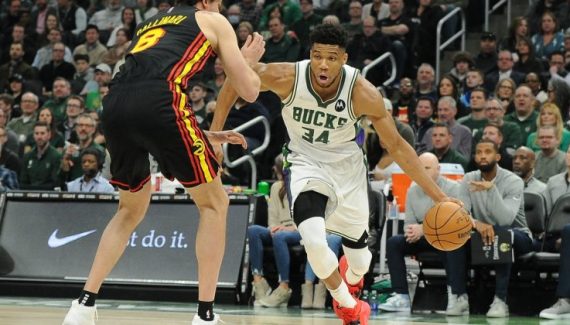 For several weeks, the debate has raged over the name of the next MVP: Nikola Jokic or Joel Embiid? And if Giannis Antetokounmpo came to referee this duel and beat them to the post…
It's not impossible as the "Greek Freak" is having a magnificent second half of the season, and tonight he literally walked on the Hawks' defense with his 43 points and 12 rebounds. Atlanta has never been able to thwart the plans of the Bucks' double MVP. Dominated in the first 24 minutes, Trae Young's teammates first joined the locker room 14 points behind (68-54).
Timid in the first half, Trae Young will then activate All-Star mode, and Atlanta will close the gap. Unfortunately for them, every time they come back below 10 points, the Bucks give a little boost. Because Milwaukee should not be reduced to Giannis. This team has players capable of tipping the scales. Bobby Portis at first shows such determination every night that he has become indisputable in this team. At his side, there is Khris Middleton who, without forcing his talent, scores as he sees fit.
And when at the start of the "money time", Atlanta returns to -6 (118-112), it is Giannis who comes to challenge Clint Capela to score near the circle. Behind, Bobby Portis covers Bogdan Bogdanovic and De'Andre Hunter takes an offensive foul. Nate McMillan loses his temper and gets kicked out. Khris Middleton scored the two free throws, then Giannis, again, dominated the rebound to go away to +12. Atlanta was exhausted chasing after the score, and the experience of the NBA champions made the difference (124-115).
WHAT YOU MUST REMEMBER
– The Bucks strike force. While Brook Lopez is about to return, the Bucks seem to be regaining the strike force of the last playoffs. Giannis is living on another planet, Middleton has donned the lieutenant's costume, Jrue Holiday is evil when necessary and Bobby Portis can catch fire at any moment. This team has something special in big games because danger can come from anywhere. The other teams are warned, Milwaukee will not let go of their trophy easily.
– Ignition delay for Trae Young. It's been several games that Trae Young has lacked aggression in the first period. It's very simple, the All-Star leader seemed absent from the debates. Too bad because his second half proves that something always happens when he plays at his true level. Even targeted by two opponents on the pick-and-roll, he is able to find the solutions.
– Nate McMillan expelled. The Hawks coach freaked out as rarely. Initially, an offensive foul whistled at De'Andre Hunter, and the Hawks coach saw red. The first technique does not calm him, and unsurprisingly, the referees whistle him a second, synonymous with expulsion.
TOPS/FLOPS
✅ Giannis Antetokounmpo. He's still one of the most dominant players in the NBA. When he wants to bend a meeting on his own, no one can stop him. Like a superhero, he put on his cape and carried his team to victory. His pick-and-roll connection with Jrue Holiday is perfect and his presence in the paint allows his teammates to cut in the back when he drives or receive passes for 3-point shots. Tonight, he finished the game with 43 points, 12 rebounds and 5 assists. A boss !
✅ Bobby Portis. It is the symbol of the fighting spirit of this team. Always dynamic, motivated and above all very good, Bobby Portis is having a great season. Holder, he brings a lot of solutions in the game. His presence in the open allows Giannis Antetonkoumpo to attack the intervals.
✅⛔ Trae Young. Despite his awkwardness at 3-pointers, he showed he had a knack for problem-solving and he forced the Bucks to vary defenses to contain him. After a failed first half, he scores 20 points in the second half to bring the Hawks back into the game.
⛔ John Collins. He never lived up to this encounter. In defense, he suffered physically against Giannis Antetokounmpo. In attack, he had several open shots, but he was never able to put them: 0 points at 0/9 for him tonight. A game to forget.
THE FOLLOWING
Atlanta (31-34) : reception of the Clippers on Friday
Milwaukee (42-25) : Saturday trip to Golden State
bucks

/

124
Shots
Bounces
Players
Minimum
Shots
3 points
LF
O
D
T
pd
party
Int
bp
CT
+/-
Points
Rating

G. Antetokounmpo

37
15/22
1/5
12/17
3
9
12
5
4
1
2
0
+3
43
47

K.Middleton

36
9/17
2/6
3/3
0
3
3
8
1
0
1
0
+5
23
25

B.Portis

32
9/17
4/8
1/1
2
13
15
0
2
1
0
2
+7
23
33

J.Holiday

35
5/17
1/4
0/0
2
3
5
8
5
2
4
0
+7
11
10

G.Allen

28
4/9
3/7
0/0
1
4
5
3
1
1
0
0
+6
11
15

J. Nwora

14
2/2
0/0
0/0
1
2
3
0
1
0
1
0
+3
4
6

S.Ibaka

18
0/1
0/0
2/2
1
4
5
0
1
2
0
0
+6
2
8

J Carter

17
1/3
1/2
0/0
0
0
0
0
2
0
0
0
+2
3
1

W. Matthews

20
2/6
0/3
0/0
1
1
2
0
2
0
0
0
+8
4
2

D.Bembry

2
0/0
0/0
0/0
0
0
0
0
0
0
0
0
-2
0
0
Total
47/94
12/35
18/23
11
39
50
24
19
7
8
2
124
Hawks

/

115
Shots
Bounces
Players
Minimum
Shots
3 points
LF
O
D
T
pd
party
Int
bp
CT
+/-
Points
Rating

J.Collins

19
0/9
0/5
2/2
0
5
5
0
2
0
2
0
-10
2
-4

D.Hunter

29
7/11
1/3
2/2
0
3
3
1
3
1
2
1
-9
17
17

C. Capela

20
5/5
0/0
1/5
2
7
9
0
5
0
1
0
+8
11
15

T. Young

36
8/15
3/9
8/8
0
3
3
11
1
1
2
1
-6
27
34

K.Huerter

26
6/11
4/7
0/0
1
2
3
3
2
0
0
0
-7
16
17

D. Gallinari

36
5/11
2/5
2/2
0
6
6
2
2
2
0
0
-8
14
18

O.Okongwu

19
5/7
0/0
3/3
3
2
5
0
1
0
0
1
-9
13
17

J. Johnson

0
0/0
0/0
0/0
0
0
0
0
0
0
0
0
0
0
0

L.Williams

16
3/3
0/0
0/0
0
2
2
3
2
0
0
0
+1
6
11

B. Bogdanovic

31
4/13
1/8
0/0
1
5
6
4
2
2
2
0
+1
9
10

D.Wright

8
0/1
0/1
0/0
0
2
2
2
0
0
0
0
-6
0
3
Total
43/86
11/38
18/22
7
37
44
26
20
6
9
3
115