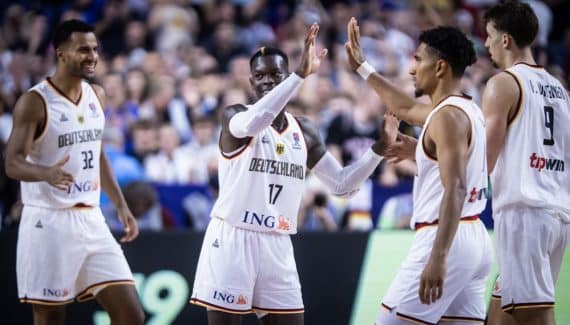 Germany have almost already validated their ticket to the round of 16 of EuroBasket by winning 92-82 against Bosnia and Herzegovina. Two wins should be enough to qualify, and Dennis Schroder's teammates were full after two matches. In front of 18,000 spectators, Germany confirmed that they had a homogeneous group with five players at 10 points and more, but also that they had character.
Led by 11 points in the first half, the Germans reacted by sticking an 18-0! A series reminiscent of the 18-3 inflicted on the French in the first match.
Despite Dzanan Musa's big game, Bosnia let go, and the gap reached 14 points five minutes from the end. Except that John Roberson conditioned the room with a 3-point three minutes from the end. The Bosnians are only six points behind (82-76) at the start of "money time". They believe it even more when Jusuf Nurkic covers Franz Wagner, but John Roberson misses his 3-point behind.
Bosnia missed their chance and the aggressiveness of Dennis Schroder allowed Germany to regain a 10-point lead with free throws. This will be the final gap, and the point guard assumed his role as leader with 18 points on 5 of 14 on shots, and 9 assists. The bench also did well with 50 points scored.
On Sunday, Germany will stake their invincibility against Lithuania, while Jusuf Nurkic's band will face Slovenia.
https://www.youtube.com/watch?v=lK238zo7Q2s
Germany

Shots
Bounces
Players
Minimum
2pts
3 points
LF
Off
Def
Early
pd
party
Int
bp
CT
Points
Maodo Lo
20:30
0/1
1/5
1/2
2
2
3
3
1
4
Niels Giffey
15:54
1/1
1/1
2/2
1
1
4
3
7
Nick Weiler – babb
19:14
1/2
0/1
0/0
2
2
2
Johannes Voigtmann
22:33
2/3
2/4
0/0
2
3
5
3
4
2
1
10
Franz Wagner
22:19
4/9
2/4
4/4
1
4
5
4
1
1
1
18
Daniel Theis
22:35
1/3
0/2
0/0
1
5
6
2
3
1
2
Dennis Schroder
29:28
5/14
1/3
5/5
3
3
9
1
1
18
Jonas Wohlfarth Bottermann
10:28
2/2
0/0
0/0
3
1
4
1
1
3
4
Justus Hollatz
Johannes Thiemann
24:01
2/2
1/2
7/7
5
5
1
1
14
Andreas Obst
12:58
0/1
3/4
4/5
1
1
2
2
2
13
Christian Sengfelder
Bosnia and Herzegovina

Shots
Bounces
Players
Minimum
2pts
3 points
LF
Off
Def
Early
pd
party
Int
bp
CT
Points
Jusuf Nurkic
34:27
7/12
1/6
4/8
7
7
1
3
1
2
3
21
John Roberson
33:45
1/3
3/9
2/2
3
3
4
1
13
Edin Atic
16:57
1/2
0/0
0/0
2
2
4
5
1
2
Miralem Halilovic
18:18
3/7
0/0
1/2
3
2
5
1
5
1
7
Amar Gegic
08:27
2/3
0/1
0/0
1
2
2
4
Kenan Kamenjas
23:15
2/5
0/0
1/2
2
1
3
2
2
1
5
Sani Campara
Dzanan Musa
34:48
11/13
2/4
2/3
2
2
4
1
3
30
Ajdin Penava
Aleksandar Lazic
19:20
0/0
0/3
0/0
3
3
1
1
1
1
Emir Suleimanovic
04:00
0/0
0/1
0/0
1
1
1
1
Adin Vrabac
06:43
0/0
0/0
0/0
1
1
2
3
1