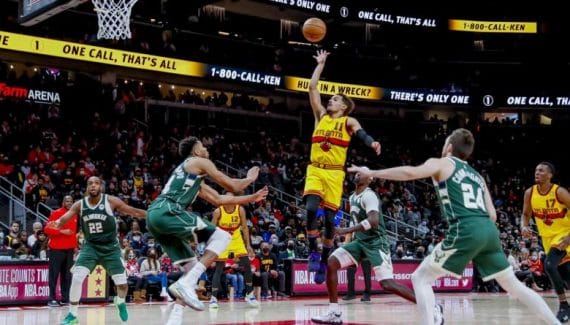 After ten straight home losses, the Hawks waited to trail the NBA champions by 14 points to finally look like the team that reached the Conference Finals last summer.
Twelfth in its conference, with a largely negative balance sheet, Atlanta is still far from the playoffs, and even from the "play-in", but this success could serve as a trigger because there was the way in the attitude to come back to the score and in composure in the "money time".
"It starts with believing in it" loose Nate McMillan. "You already have to believe in the fact that you can win a match, and I think we doubted it for the past two months. I talked to them about it tonight. You have to believe in your chances of winning, and then perform. I think our guys were tonight. They were welded and connected. "
However, we thought they were going to crack in the last quarter. After coming back to -2, they conceded a terrible 9-0 to find themselves at -11 in two minutes. But the Hawks insisted and it paid off.
"We made stops in defense, and in attack, we took our time in the 4th quarter" enjoyed De'Andre Hunter. "Usually, with four or five minutes to play, that's when you start to crack, but tonight I found that we were better in our ability to take our time to put our systems in place and look for the matchups we wanted. "
This is the first time this season that the Bucks have lost a game when they were leading at the start of the 4th quarter. It is to say if the performance of the Hawks is to be underlined. Author of 15 points in the last quarter, and a decisive 3-pointer, Trae Young hopes that it will be a click: " Let's hope it's a turning point to string together victories.".
Response on Wednesday with the reception of Wolves, a formation which has just slapped the Warriors.
Shots
Bounces
Players
GM
Minimum
Shots
3 points
LF
Off
Def
Early
pd
bp
Int
CT
party
Points
Trae Young
39
34.7
45.3
36.5
90.3
0.7
3.3
3.9
9.4
4.1
1.0
0.1
1.7
27.7
John Collins
38
32.4
53.6
43.5
79.3
1.8
6.1
7.9
1.9
1.2
0.6
1.1
3.1
17.2
De'Andre Hunter
15
28.4
44.3
41.4
69.2
0.4
2.5
2.9
0.9
1.2
0.5
0.6
2.4
12.1
Bogdan Bogdanovic
28
28.7
41.2
35.4
77.1
0.3
3.4
3.8
2.6
1.0
0.7
0.2
1.9
12.0
Cam Reddish
34
23.4
40.2
37.9
90.0
0.6
1.9
2.5
1.1
1.3
1.0
0.3
1.3
11.9
Clint Capela
36
29.7
56.9
0.0
46.4
4.2
8.9
13.1
1.4
0.6
0.8
1.5
2.5
11.8
Cameron Oliver
2
21.6
66.7
33.3
66.7
1.0
2.0
3.0
1.5
0.0
0.5
0.5
2.5
11.5
Kevin Hurter
36
28.7
45.1
35.2
80.0
0.4
3.1
3.6
2.8
1.3
0.5
0.3
2.0
11.3
Danilo Gallinari
34
23.1
41.9
40.1
92.5
0.5
3.6
4.2
1.4
0.6
0.4
0.2
1.4
10.3
Chaundee Brown
3
27.7
36.0
40.0
83.3
0.3
4.3
4.7
1.3
0.0
0.7
0.0
2.3
9.7
Onyeka Okongwu
11
23.8
78.2
0.0
65.2
2.4
3.9
6.3
1.2
1.3
0.7
1.5
3.8
9.2
Wesley Iwundu
3
27.4
44.4
60.0
75.0
1.0
3.3
4.3
0.0
0.3
0.3
0.0
2.7
7.3
Lou Williams
29
14.3
37.8
32.8
85.4
0.3
1.2
1.5
1.6
0.9
0.6
0.1
1.0
6.6
Malcolm Hill
3
15.3
62.5
60.0
100.0
0.7
1.3
2.0
0.3
0.0
1.3
0.3
2.3
5.7
Skylar Mays
17
10.8
52.5
32.0
100.0
0.3
1.1
1.4
0.8
0.4
0.4
0.0
0.4
4.5
Timothe Luwawu-cabarrot
30
14.3
38.5
34.6
85.0
0.3
1.3
1.5
0.8
0.4
0.4
0.1
1.5
4.5
Delon Wright
38
17.5
44.2
43.1
81.2
0.8
2.1
2.8
2.4
0.7
0.8
0.2
0.6
4.3
Gorgui Dieng
31
9.8
46.4
41.3
73.9
0.9
2.4
3.3
0.9
0.5
0.3
0.4
1.4
3.7
Jalen Johnson
11
4.7
47.1
33.3
66.7
0.0
1.2
1.2
0.1
0.2
0.0
0.0
0.3
2.0
Lance Stephenson
6
11.6
38.5
0.0
50.0
0.2
2.3
2.5
1.8
0.7
0.0
0.0
1.3
1.8
Sharif Cooper
10
3.5
21.4
16.7
0.0
0.0
0.5
0.5
0.5
0.5
0.0
0.0
0.1
0.7
Solomon Hill
13
10.7
15.0
15.4
0.0
0.5
1.3
1.8
0.9
0.1
0.3
0.2
1.2
0.6
Cat Barber
3
4.3
0.0
0.0
0.0
0.3
0.7
1.0
1.0
0.3
0.0
0.0
0.3
0.0