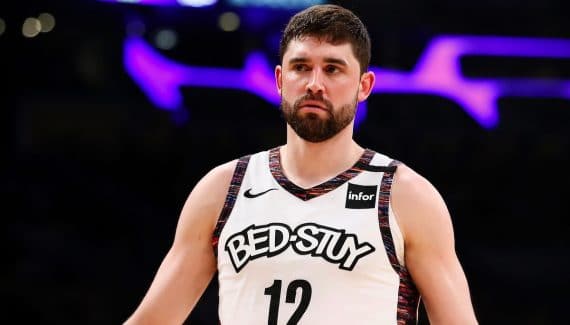 We knew that the rehabilitation of Joe Harris, since his left ankle operation at the end of November, was not going very well. We now know, thanks to Steve Nash, that the Nets shooter has indeed suffered a relapse.
"He was in pain", explained the Brooklyn coach at ESPN. "I'm reluctant to talk about it because I'm not a doctor so I don't want to talk nonsense, but he clearly had a relapse. We have to continue to be positive and try to overcome that. "
The player certainly traveled with his teammates last week, during the "road trip" of the Nets, but as his rehabilitation drags on, he is not yet able to return to the courts.
"He is improving, but not to the point of being ready to train. He is a bit on the pitch, in training, he continues to work, but for the high intensity sessions, it is not yet possible. "
His return is therefore not for now. See him again after the cut of the All-Star Game, next February 20, is it possible? " I do not know ", replies Steve Nash. " It's a good question. "
Joe Harris
Percentage
Bounces
Season
Team
GM
Minimum
Shots
3 points
LF
Off
Def
Early
pd
party
Int
bp
CT
Points
2014-15
KEY
51
10
40.0
36.9
60.0
0.1
0.7
0.8
0.5
1.2
0.1
0.5
0.0
2.7
2015-16
KEY
5
3
25.0
25.0
0.0
0.0
0.6
0.6
0.4
0.2
0.0
0.2
0.0
0.6
2016-17
BRK
52
22
42.5
38.5
71.4
0.3
2.5
2.8
1.0
2.3
0.6
1.1
0.2
8.2
2017-18
BRK
78
25
49.1
41.9
82.7
0.7
2.7
3.3
1.6
2.0
0.5
1.2
0.3
10.9
2018-19
BRK
76
30
50.0
47.4
82.7
0.7
3.1
3.8
2.4
2.4
0.5
1.6
0.2
13.7
2019-20
BRK
69
31
48.6
42.4
71.9
0.9
3.4
4.3
2.1
2.3
0.6
1.5
0.3
14.5
2020-21
BRK
69
31
50.5
47.5
77.8
0.6
3.0
3.6
1.9
2.0
0.7
0.9
0.2
14.1
2021-22
BRK
14
30
45.2
46.6
83.3
0.4
3.6
4.0
1.0
2.2
0.5
1.1
0.1
11.3
Total
414
26
48.3
43.9
78.0
0.6
2.7
3.3
1.6
2.1
0.5
1.2
0.2
11.1